'Black Swan' sweeps independent film awards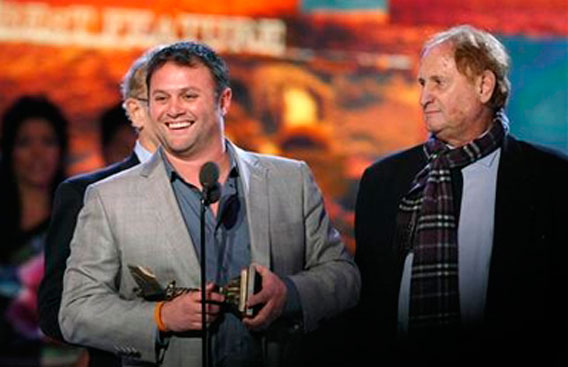 "Black Swan," a ballet melodrama that struggled to get made despite an A-list cast and director, swept the independent film world's version of the Oscars on Saturday, a day before it competes for five prizes at the Academy Awards.
The film picked up four Spirit statuettes, including best feature and best female lead for Natalie Portman, who starred as a childlike ballerina consumed by fear and paranoia.
Darren Aronofsky was named best director for his work on the movie, two years after he was honoured for "The Wrestler." It also took the cinematography prize for Matthew Libatique.
All three will compete for Oscars on Sunday, with Portman the favourite to win her race. The film will also vie for best picture and editing.
"Winter's Bone," which led the Spirits field with seven nominations, ended up with two prizes. John Hawkes and Dale Dickey won for their supporting roles as threatening characters in a rural American community ravaged by methamphetamines.
The male lead prize went to Oscars co-host James Franco for his role as a hiker forced to amputate his own arm in the true-life tale "127 Hours."
"The Kids Are All Right," with five nominations, received a solitary win in the screenplay category, for director Lisa Cholodenko and co-writer Stuart Blumberg.
HOLLYWOOD REJECTION
The victory for "Black Swan" is a testament to the risks and rewards of independent filmmaking. Aronofsky and Portman first discussed making "Black Swan" about a decade ago, and when they finally started shooting, the film was on shaky financial ground.
The script also went through dozens of revisions, a financier pulled out, and several Hollywood studios rejected it, including its eventual distributor, Fox Searchlight.
"Any time you try to do something that's not in a box it's a challenge," Aronofsky said of the constant challenge of raising film financing despite his success with such films as "The Wrestler" and "Requiem for a Dream."
Nascent private equity fund Cross Creek Partners came to its rescue, offering to split the $15 million (9 million pounds) budget in a worldwide deal with News Corp's Fox Searchlight. It turned out to be a lucrative investment. The film has grossed more than $200 million (124 million pounds) at the worldwide box office to date.
Cross Creek principal Brian Oliver told Reuters he was drawn to Aronofsky's involvement. "I really liked the script and I saw the thriller part of it and I thought it could be one of those movies that could really break out," he said.
The film was also a challenge for Portman and co-star Mila Kunis, who plays her rival in a New York production of "Swan Lake" and a Sapphic fantasy interest. Neither actress is a ballerina, and they trained for months and dieted religiously to get in shape.
The Spirit Awards honour low-budget American films based on such criteria as original, provocative subject matter and the degree of independent financing.
"The King's Speech," which leads the Oscars field with 12 nominations, was named best foreign film at the Spirits. As a British movie, it was not eligible for consideration in the major categories.
Each year, a handful of Spirit winners usually goes on to earn Oscars thanks in part to the success of low-budget films in the mainstream arena. But the awards ceremonies otherwise could not be more different.
The Oscars take place at a theatre in a Hollywood shopping mall. Black tie is obligatory, and everyone is on their best behaviour at an event oozing with seriousness.
The Spirits, famed for their relaxed and boozy atmosphere, returned to their traditional locale on Santa Monica Beach after an ill-fated switch to a downtown Los Angeles parking building last year. The sun usually smiles on the event, but this year's show was an uncomfortably frigid affair for the stars and guests gathered in a large marquee.
Follow Emirates 24|7 on Google News.