Bollywood momies making a comeback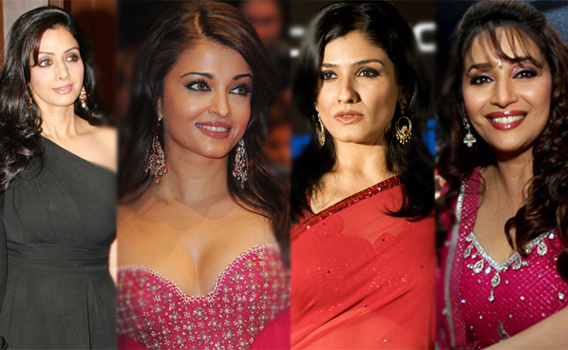 They came, they ruled and they conquered millions of cine goers through their mesmerizing charms.
The original divas like Sridevi, Madhuri Dixit, Karisma Kapoor have picture perfect looks with an impressive talent to match with.
They all had their share of success and sparkled on screen at the right time and when they felt their time was over they made a graciously exit.
But their love for the tinsel town, the glitz and the glamour couldn't hold them back and they are all making a comeback.
Bollywood actress Sridevi showcases designer Neeta Lulla's creations on the final day of the Lakme Fashion Week in Mumbai, India. (AP)
Sridevi is returning with 'English Vinglish' after a 14 year sabbatical. This 48-year-old mother left the industry in 1997 to raise her children. 'English Vinglish' features French actor Mehdi Nebbou, Adil Hussain, Priya Anand and Amitabh Bachchan in a cameo. The film revolves around a middle-class Indian housewife with weak English, who becomes the butt of everyone's jokes and how she goes to the US to learn the language. We all had the taste of Sridevi's comic sense, hope it's intact and she pulls another stunner.
Indian Bollywood actress Karishma Kapoor attends the final day of Lakme Fashion Week (LFW) Winter/Festival 2011 in Mumbai. (AFP)
Karisma Kapoor's comeback with a good movie has been long awaited. She will feature in Vikram Bhatt's 3D venture, 'Dangerous Ishq'. The film is a woman-centric, supernatural thriller where Karisma plays the central character. Karisma took a sabbatical from full time acting for 3 years in 2003 after getting married to childhood friend Sanjay Kapur. This mother of two was last seen in 2006 in 'Mere Jeevan Sathi'. Karisma will also be seen in the remake of 'Satte Pe Satta' opposite Sanjay Dutt.
Raveena Tandon at a product launch event. (AP)
Recently ravishing Raveena Tandon draped in a pink sari ready to shoot for a 'love filled parting' sequence for her upcoming film pulled the crowds out in Mumbai which confirmed that the actress still has some fan following. Age doesn't seem to have affected Raveena as the actress will be seen romancing three men in 'Shobhna's 7 Nights'. Raveena plays a sensuous bold character in the movie which is about the dark underbelly of Mumbai. The story revolves around the nightlife and what all happens when the creatures of the night come out.
Madhuri Dixit Nene in her last movie 'Aaja Nachle'. (AP)
One comeback which everyone is holding their breath and waiting for is that of Madhuri Dixit. Dixit, now 44, made an unsuccessful attempt with 'Aaja Nachle' in 2007 post marriage and two boys. Her performance was widely appreciated. Almost after a decade she shifted her base back to Mumbai last year along with her family and is looking to make her comeback on big screen. Dazzling audiences with her thousand watt smile the lady with the irresistible charm danced her way into the hearts of millions. But Madhuri is not just beauty her talent is undeniable. She is waiting for a perfect script that would do justice to her grace, beauty, age and talent. Prakash Jha is talking to his 'Mrityudand' heroine Madhurito be a part of his next film.
Actress Juhi Chawla at the launch of new look for his IPL team. (AFP)
The ever bubbly Juhi Chawla was never completely out of the frame. But she was not seen in a meaty role for long. Juhi Chawla, who is busy promoting her IPL cricket team, is going to make a comeback in a film titled 'Son of Sardar' (SOS). It has Ajay Devgn in the lead role and Sonakshi Sinha will be seen romancing Ajay in this movie. Juhi will play a hilarious role of a Punjabi woman and is part of big mad Punjabi family. She is paired opposite Sanjay Dutt. Another movie 'Hum Hain Raahi Car Ke' is also in the pipeline for this lively lady.
(FILE) Aishwarya Rai Bachchan at the premiere of her movie 'Raavan'. (GETTY)
Yet another comeback is much awaited post her baby is that of the beautiful Aishwarya Rai Bachchan. It is still unclear when she going make her way back to the silver screen but the industry is excited and wants this leading lady back soon. Almost every day a new development and speculation is made about Ash and her coomeback. It's been 3 months since the birth of her daughter and various reports suggests various names with whom she might be staging a comeback. It was speculated that she might feature with Shah Rukh Khan in 'Bajirao Mastani', a cameo with Rajinikanth in 'Kochadaiyaan', 'Happy Birthday' with John Abraham and also with husband Abhishek Bachchan. Filmmakers are definitely trying their luck to be the first one to work with Ash once she decides to come back.
The leading ladies are on a comeback trail and once again seek to impress their audience with their acting ability. You cannot call them retired, not just yet.
Follow Emirates 24|7 on Google News.