Bollywood Buzz: Shah Rukh Khan pecks at Katrina Kaif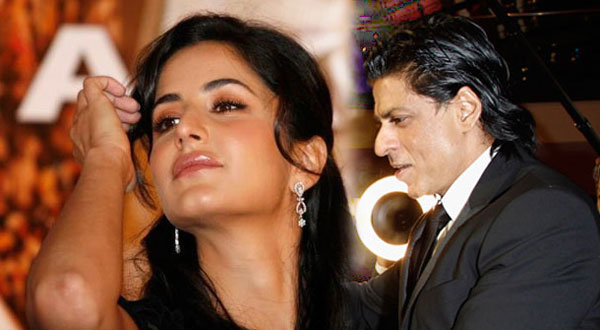 Shah Rukh Khan hosted the 18th Annual Screen Awards on Saturday, January 14, alongside Shahid Kapoor, but it was only Shah Rukh who got to peck Katrina Kaif on her cheek.
The King Khan went out of his way to entertain everyone at the award ceremony.
It was a gala night with performances by the top stars of Bollywood including Priyanka Chopra, Shahid Kapoor, Vidya Balan and Madhuri Dixit. But the high point of the evening was Shah Rukh Khan's gig with Katrina Kaif.
Kat may have been wondering – What is Salman Khan going to say?
Salman was, of course, here in Dubai for the Celebrity Cricket League 2 with his brother Sohail Khan.
During the award night, dressed dapperly in a tuxedo, Shah Rukh Khan wooed Katrina Kaif who looked drop-dead gorgeous in a pink saree. The duo performed to a romantic track, reports sawfnews.com.
But Katrina was not the only one Shahrukh shook his leg with. The superstar serenaded beauties like Madhuri Dixit and Vidya Balan too.
"Too much fun with Vidya..Madhuri..Katrina...Sajid. Hope the audience enjoys it too. Now looking forward to zee after screen awards..loving it," Shah Rukh Khan later wrote on his Twitter page.
Well when it comes to romance, there is none in Bollywood like Shah Rukh Khan.

Sunny Leone may not act in 'Jism 2'
While there has been much speculation on Indian Canadian porn star Sunny Leone starring in 'Jism 2', the film's producer Pooja Bhatt has decided to keep everyone guessing.
Pooja asked reporters to keep guessing whether she is casting Sunny in the movie at all.
Mahesh Bhatt had offered the movie to Sunny while she was participating in the reality show 'Bigg Boss 5'.
Meanwhile, Pooja said she was happy that a saucy poster of 'Jism 2' has been well received.
She is glad that curiosity surrounding the film has increased so soon.
She also said 'Jism 2' will be totally different from the previous movie. One should not compare with the other.
According to reports in NDTV, it might be the price that's posing problem in casting Sunny.

Katrina performs on 'Chikni Chameli'
Katrina Kaif makes 'Chikni Chameli' stage debut during the 18th Annual Color Screen Awards in Mumbai.
It was the highlights of the evening when Katrina's performance of the item song 'Chikni Chameli' from the upcoming film 'Agneepath' took the center stage.
She had earlier declined lucrative offers to perform on the track on New Year Eve. She turned them down the offers because she wanted to celebrate the occasion with her family.
But during the award ceremony Katrina clad in traditional Maharashtrian attire gave a sizzling performance as pictures published in Daily Bhaskar suggest.
She had asked the organisers to arrange for special costumes for her maiden performance on the number.
She will be performing on a medley consisting several of her hit songs including 'Sheila Ki Jawani'.

Follow Emirates 24|7 on Google News.