Shah Rukh, Farah Khan kiss and make up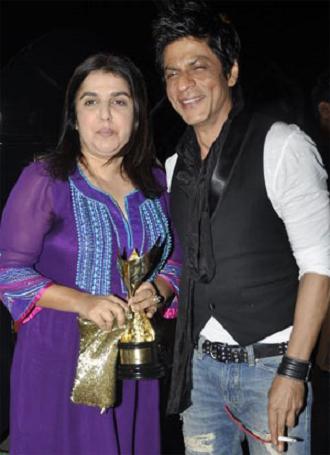 Blame it on "Tees Maar Khan". Now that director Farah Khan has had her first flop, with a movie that does not feature Shah Rukh Khan, it's no coincidence that the pair kissed and made up this week.
After a year of silence, the Bollywood superstar was able to patch things up with the director.
Once close friends, the pair fell out after Farah dropped the box-office hero from "Tees Maar Khan" when he couldn't find the dates to commit to the project.
And although Khan apologised on the TV chat show "Koffee With Karan", the pair only finally laid their differences to rest at this week's Apsara Awards in Mumbai, according to sources in Bollywood.
IN PICTURES: Bollywood stars light up the Apsara Awards
An onlooker told Mid-Day.com: "Last week at the Screen Awards, while backstage, SRK had invited Farah to join him in his vanity van. At the time, their vans were far apart. Farah finished her act and left soon after. However, last night at the Apsara awards, their vans were almost next to each other and she had to pass by SRK's van. As she was crossing by, SRK's spotboy saw her and asked her to come in and meet Shah Rukh. Farah went in and both of them hugged each other warmly."
A casual chat veering around their children followed. Farah reportedly then pulled out pictures of her triplets, Anya, Czar and Diva, for Khan to look at.
"Priyanka was also in the van so the two friends hardly had any time to chat. Farah left a few minutes later as she had to run to the Lions Club Awards after that. Of course, the two have promised to catch up later now," the source said.
The pair were later seen hugging and posing for photographs.
Shah Rukh and Farah were unavailable for comment -- but we're hoping they go on to make some more quality movies together!
IN PICTURES: Bollywood stars light up the Apsara Awards
Follow Emirates 24|7 on Google News.