SRK to go global with next Dh146m project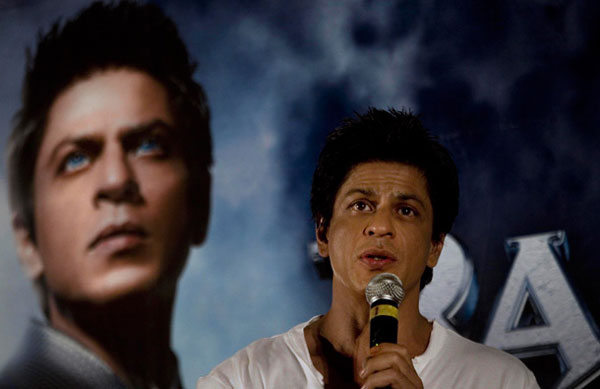 The King Khan dreams of making it big as Karna, the warrior prince from the epic tale of love and valour- Mahabharata.
He is these days buring his midnight oil trying to capture the story for the big screen.
'RA. One' has been a certified flop now, but there is no denying that with this 160 crore film has changed the face of Indian cinema.
It has taken the industry a leap further, and for this, Bollywood has to thank none other than Shah Rukh Khan.
It was his love for the film and the industry, that the actor had spared no efforts in getting the best hands to shape his ambitious project.
Be it famous singer Akon to sing the chartbuster, 'Chamak Challo' or technician to give his film the Hollywood kind of feel.
And to a lot of extend, we admit, the star succeeded. The film's look and style was truly a class apart, what didn't work for the film is of course the story – there was much desired.
But the world (read audience), who sees King Khan as their own larger than life star was unsparing, sometimes lethal, with their comments.
So while the music topped the charts – 'Chamak Chalo' and 'O Dilbara' topped the charts for a good time before taken over by 'Chikni Chameli' –the film's collection took a nose-dive.
Many of them even wrote the 'Bazigaar' off. But not Shah Rrukh Khan. The actor not only took every criticism on the face, and smilingly, but post 'Don 2' is all set to return with a even bigger film with a said budget of Dh146 m.
He is planning to introduce the concept of Karna at the Berlin film festival next month, hoping to rope in partners for his venture; for this, he has put his SFX team at Red Chillies to work.
Buzz suggests that the budget will go over Dh146 m, which will make it one of the costliest ventures in Bollywood.
And Shahrukh is planning to hold talks with 20th Century Fox and Warner Bros to co-produce it.
The film will have both Indian and Hollywood actors with Shah Rukh of course playiing the lead.
With all the hard work on SFX and money put in a project, fans only hope he gets the script right this time.
Follow Emirates 24|7 on Google News.