Aishwarya's baby name... a very private ceremony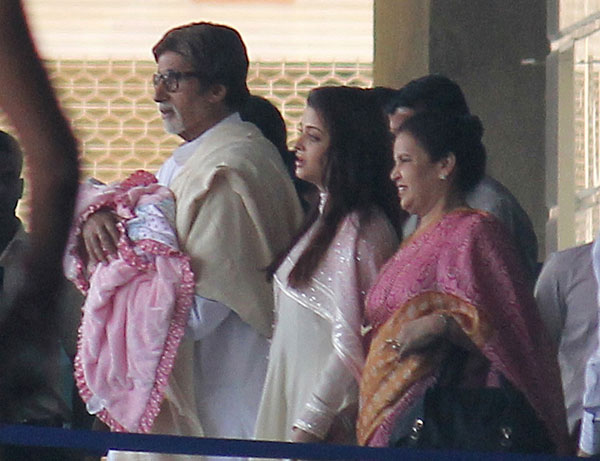 It has been two weeks since the birth of a girl child in superstar Amitabh Bachchan's family, but Abhishek Bachchan and Aishwarya Rai are still not able to decide a name for "Beti B."
Though there are thousands of suggestions for the new parents, no names are shortlisted yet.
There are reports that the search for the name will come to an end in December during a very private ceremony being organized by the Bachchans.
A catering service provider who got contract for the ceremony said that there would be only vegetarian food for the private ceremony to be held at "Pratiksha."
People believe that the name deciding responsibility has been given to Big B, but the superstar has denied the point.
"And I keep thanking all those who suggest names for the little one .. we are still considering ..there must be unanimous consent !!" Amitabh Bachchan tweeted.
Earlier, Abhishek had requested his fans to ssuggest name with the letter 'A'.
But what's keeping mom Aishwarya and Beti B busy these days? Relatives and friends are swarming in hundreds to catch a glimpse of the baby girl and bless the little one.
The entire Bachchan family is busy playing host to hundreds of relatives and friends.
An excited grandfather, Amitabh Bachchan recently posted on his blog, "A stream of visitors has been coming in to the house to bless and meet the little one. She, in all her pink glory has slept through it all. And when she awakes stares with open wondered eyes on what looks down upon her. Relatives from sides, friends, well wishers the lot. They leave behind little gifts, a happy note in the baby book and leave discussing in rather animated form on who she resembles."
ALSO READ:

The return of
Aishwarya Rai
Follow Emirates 24|7 on Google News.