Branson to be a 'stewardess' on AirAsia flight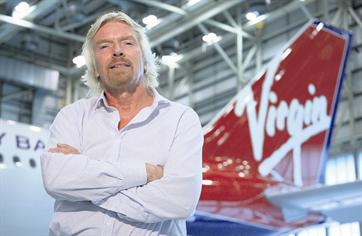 British billionaire Richard Branson will dress and serve as a stewardess on Malaysian budget carrier AirAsia X on May 1 after losing a Grand Prix bet with the founder of the airline.
Branson, whose Virgin group sponsors the Marussia Virgin Racing team, will finally honour his bet with AirAsia founder and Team Lotus co-principal Tony Fernandes on whose team would finish higher at the 2010 Bahrain Formula One GP.
"Five months after the colourful evening in Abu Dhabi, the day of reckoning for Sir Richard Branson has finally arrived," the airline said in a statement Wednesday.
"(He) will don AirAsia's famous red female flight attendant uniform and strut down the aisle to offer coffee, tea or any other food or beverage to Tony Fernandes and 250 other guests on the special 13-hour KL-bound flight," it said.
AirAsia X is a long-haul affiliate of AirAsia and Branson's Virgin Group.
The airline said it was selling 160 tickets for the London to Kuala Lumpur charity flight, with passengers to also be entertained onboard by street magician Dynamo and a four-piece band featuring former Grand Prix team owner Eddie Jordan.
"We've come a full circle, Richard and I. Who would've thought my mentor will be serving as a flight attendant on AirAsia? I've got my razor ready, and I can't wait to shave his hairy legs," Fernandes said in a statement.
"Jokes aside, how we got to this charity flight is a testament that we can achieve anything if we are fuelled by passion, grit, determination and never take no for an answer," he added.
"Team Lotus, a Malaysian F1 team, supported by AirAsia, an Asean airline has beaten the odds on the race track and on the air, and there will be more to come."
Fernandes' Team Lotus debuted in the 2010 Formula One season and are part of the F1 this year but face a legal challenge over the use of the Lotus name.
AirAsia is Southeast Asia's largest budget carrier and along with AirAsia X, services about 150 routes covering destinations in Asia, Australia and Europe.
Follow Emirates 24|7 on Google News.