Why Salman, not Shah Rukh, is Bollywood's 'King Khan'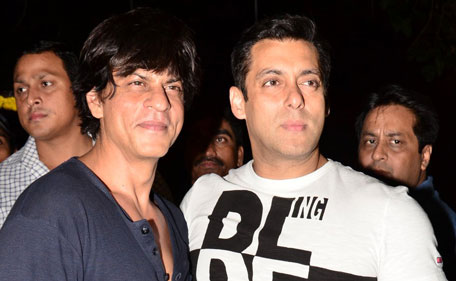 Bollywood has worked its way up the salary scale to land several spots on the Forbes annual Celebrity 100 rankings list of the world's highest paid celebrities.

This is the first time Forbes has expanded its celebrity rankings to take it global, regardless of nationality, allowing Salman Khan and Amitabh Bachchan to both tie at number 71, with earnings of $33.5 million (Dh123m) each last year.

The Bollywood superstars have beaten the likes of Hollywood's Leonardo DiCaprio (89 ranking) and Johnny Depp (87), along with musicians Jennifer Lopez (95) and Pharell Williams (78) in the bargain.

Akshay Kumar, as well as India cricketer Mahendra Singh Dhoni have also made it to the list, with the former placed at 76 with $32.5m (Dh119m) in annual earnings, while the latter comes in at 82 by pocketing $31m (Dh113.8m).

Interestingly, Bollywood's 'King Khan' or Shah Rukh Khan, who served up the blockbuster 'Happy New Year' last year, features nowhere on the top 100 list.

The actor, who once reigned over the Forbes India Celebrity 100 list at the number one spot in 2013 for his annual earnings and estimated fame, has been knocked off the ladder after dropping to the number three position last year, when Salman Khan dethroned him to take the crown.

In 2014, Shah Rukh had dropped below Bachchan, while Dhoni and Kumar had rounded up the top five.

This year's global celebrity rankings has Salman Khan laughing all the way to the bank, despite his past few months spelling legal trouble for him after a Sessions Court in India convicted him to five years in jail for causing the death of one and injuring four others in a drunk driving charge.

The actor is currently out on bail after an appeal in the Bombay High Court, with his latest 'Bajrangi Bhaijaan' expected to release in cinemas this Eid Al Fitr.

Stalwart Bachchan, 72, who has a 50-year career to his credit continues to pocket earning for his roles in films such 2014's 'Bhoothnath Returns'.

This year's 'Piku' has already emerged as one of the top grossers of 2015, with 'Wazir' currently in post-production work and readying for release.

Superstar Kumar, who has some 150 movies in his filmography list, earned blockbuster rupees in 'Entertainment' and 'Baby' earlier this year.

Meanwhile, Captain Cool Dhoni, who retired from Test cricket at the end of 2014, led India to the semi-final of the 2015 ICC Cricket World Cup before losing out to world champions Australia.

He is also venturing into Bollywood by co-producing the upcoming biopic titled 'M.S. Dhoni: The Untold Story'.

Topping the rich list

Floyd Mayweather, meanwhile, has served a knockout punch to Manny Pacquiao once again; only this time, the fight is for the fattest paycheck in the business.

According to the Forbes list, the boxing champion has emerged victorious by grabbing the top title with $300 million (Dh1.1 billion approximate) in yearly earnings.

Mayweather beat Pacquiao, who came in second place, taking the rivalry from the ring all the way to the bank; the latter boxing legend took home $160m (Dh587m) on the year, in comparison.

Mayweather's climb to the top comes largely on his May 2 win over Pacquiao in Las Vegas, a Dh661m fight that spawned a record 4.4 million Pay-Per-View buys, despite being called a 'letdown' by fans from both camps.

Coming in at number three on the Celebrity 100 list is musician Katy Perry, who racked up earnings of $135m (Dh495.8m), beating the boys from One Direction by five million, who came in at number four.

The world's biggest boy band, who staged a sold out performance in Dubai in April, has played 74 concerts over the past one year, Forbes states the group has earned more than twice as much as the Rolling Stones.

Rounding up the top five is controversial radio and TV show host Howard Stern, who may have angered many along the way with his political views, but has garnered a paycheck worth $95m (Dh348.9m) along the way.

Interestingly, the sparring duo isn't the only one that checks off 'athlete' in the profession category to make it to the top 10 list.

Footballer Cristiano Ronaldo rounds off the list at number 10 spot with $79.5m (Dh292m) in annual earnings.

Where is Hollywood?

Where is Hollywood, you ask? Not exactly losing out to Bollywood (just yet).

However, it appears the acting business does not serve up the inflated starry salaries that once brought studios to the brink of bankruptcy.

Athletes and musicians perform the lead roles in the top 10 rankings of this Celebrity 100 list, with country star Garth Brooks coming in at position six with $90m (Dh330.5m) in earnings, followed by bestselling author James Patterson at seven with $89m (Dh326.8m).

Robert Downey Jr emerged as the solo representative of Hollywood old world glamour, sharing the number eight spot of $80m (Dh293.8m) in annual earnings with musician and celebrity powerhouse, Taylor Swift.

Twenty-five years his junior, Swift is fast emerging as a mover and shaker of showbiz, so much so, that even Apple felt her bite when the country musician turned pop star decided to block the release of her music album on its streaming service over unfair pay practices to budding artistes.

Apple had to finally bow down to her wishes and reversed its policy following Swift's open letter to the company on her Tumblr blog.

Downey Jr, who is flying high on the success of 'Iron Man' and 'Avengers: Age of Ultron', may not make the cut next year as he hung up his superhero suit when he turned down the role of Iron Man in the franchise's fourth instalment to star in 'Captain America: Civil War' along with Chris Evans.

Downey told Venture Capital Post there were no plans for a fourth 'Iron Man' movie, nor were there any scripts although he does plan to be involved in upcoming Marvel films.

Forbes releases its celeb list every year since 1999, but for the first time has taken the list international to make it the world's 100 highest-paid celebrities, regardless of nationality.

The list measures money earned from June 1, 2014 to June 1, 2015 before subtracting management fees and taxes; figures are based on data from Nielsen, Pollstar, Box Office Mojo and IMDB, as well as interviews with agents, managers, lawyers and stars.
Follow Emirates 24|7 on Google News.