Comics target Selena Gomez while roasting ex Justin Bieber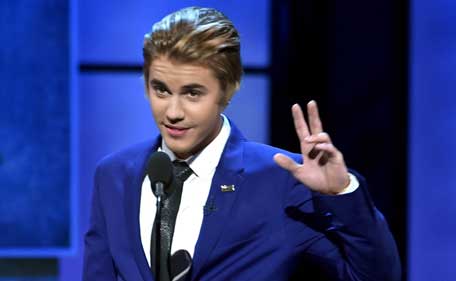 Selena Gomez was cruelly targeted at Justin Bieber's Comedy Central Roast last night (14.03.15).
The 22-year-old singer dumped the 'Baby' hitmaker last year but it seems their turbulent four year relationship still haunts her as comics made a dig at the brunette beauty, who is now rumoured to be dating DJ Zedd, during the highly anticipated show.
Singer Selena Gomez arrives for the 42nd Annual American Music Awards held at Nokia Theatre L.A. Live on November 23, 2014 in Los Angeles, California. (Getty)
US stand-up comedian Jeff Ross said: "Selena Gomez wanted to be here but she's dating men now.
"Is it true you dumped her because she grew a mustache before you? Selena Gomez had *** with [you]... proving Mexicans will do the disgusting jobs Americans just won't do."
However, it was the 21-year-old hunk that took the brunt of the insults in the programme as funnymen and women gathered together to reference his criminal record, his bizarre hair styles, his young fan base and his alleged scrap with Orlando Bloom.
AFP
Kevin Hart joked: "Bieber has 10 million fans - most are in middle schools, or standing at least 500 feet away from one."
And that wasn't all the 35-year-old actor came up with as he also commented on Justin's disagreement with Hollywood hunk Orlando last year over his ex-wife Miranda Kerr.
He said: "Orlando Bloom took a swing at you; you have a perfume called Girlfriend; you threw eggs at a house - not gangsta."
AFP
Snoop Dogg added: "Justin, you're so pretty, when inmates see your mug shot, they swipe right."
Justin took it all in his stride and even cracked a few jokes himself, before adopting a more serious toned and apologising for his shocking behaviour over the past two years.
He said: "I lost some of my best qualities. I'm looking forward to being someone to be proud of. Someone close to me once said how you rise from a fall is how you are truly defined as a man."
The Comedy Central Roast airs on March 30.
Also see: Movie Listings in UAE
Follow Emirates 24|7 on Google News.