Cory Monteith's girlfriend Lea Michele 'devastated' - seeks privacy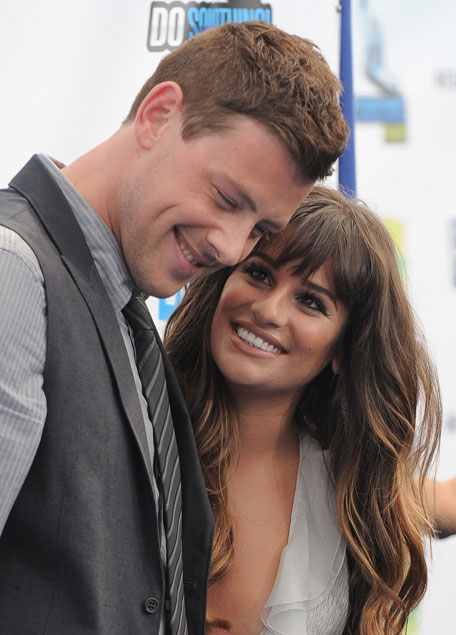 After the tragic death of 'Glee' star and boyfriend Cory Monteith Lea Michele has asked for 'privacy at this devastating time'.
The actress released a statement on Sunday after her 31-year-old Glee co-star was found dead in his hotel room in Vancouver, Canada on Saturday (13.07.13).
'We ask that everyone kindly respect Lea's privacy during this devastating time,' a representative for Lea told People.
HollywoodLife.com reports that Lea is 'devastated beyond belief,' and 'She [Lea Michele] is absolutely hysterical and completely inconsolable."
Selena Gomez has led the slew of celebrity tweets paying tribute to Cory Monteith.

The actress and singer posted a picture of herself and Cory hugging on the red carpet of the Kids' Choice Awards back in 2011 along with a poignant message.
'This hurts,' she wrote. 'I love you Cory. Rest in peace. My thoughts and prayers are with you and your family.'
Gwyneth Paltrow, who also appeared in the show, released a moving statement in tribute.

'Cory was a sweet and talented man. My heart breaks for Lea and the entire Glee family,' said the actress.
A huge number of celebrities have expressed their sorrow over the death of Cory Monteith.
The 'Glee' star, 31, who voluntarily checked in to rehab for a month to battle drug addiction and was released in April, was found dead in his hotel room in Vancouver, Canada, on Saturday (13.07.13).
Matthew Morrison admitted it was "awkward" to be performing so soon after the death of his "brother" and co-star Cory.
The 34-year-old newly engaged actor told the audience at the 54 Below club in Manhattan: "You guys came to see a show, I came to perform a show, so that's what we'll do. And we'll do it in Cory's honour."
The 'Stay' singer, 25, wrote on Twitter: "Cory Monteith, may your spirit be at peace, and may you fly with the angels... Heart-breaking, my prayers are with all of his loved ones!"
Taylor, 23, tweeted: "Speechless. And for the worst reason."
Demi Lovato, who has also been to rehab to battle depression in the past, wrote: "#RIPCoryMonteith... So unbelievably tragic."
She added that her prayers are with Cory's girlfriend of one year and co-star Lea Michele, 26.
Kaley Cuoco, Olivia Munn and Kim Kardashian also expressed their sorrow after hearing the news.
Kim Kardashian broke her post-pregnancy silence to send 'prayers for his family' and Cory's girlfriend of two years, Lea Michele.
'Words cant describe what they must be feeling,' the new mother lamented.
Meanwhile 20th Century Fox and Fox Broadcasting Company - the executive producers for the show - paid tribute to an "exceptional talent."
They added: "We are deeply saddened by this tragic news. Cory was an exceptional talent and an even more exceptional person.
He was a true joy to work with and we will all miss him tremendously. Our thoughts and prayers are with his family and loved ones."
His co-stars Dot Marie Jones and Damian McGinty admitted they are both devastated by the Canadian actor's death.
According to police, Cory, who checked into the hotel on July 6, was out with friends in the city on Friday night and returned to his 21st floor room in the early morning hours alone.
It was also said that he had been dead for several hours by the time his body was discovered by staff at the hotel, who went to his room after he missed his checkout time.
Monteith admitted he skipped school to get drunk and smoke pot when he was just 13 years old and quit his education at the age of 16.
By the time he was 19, the TV singing sensation was undergoing a stint in rehab to battle his demons.
ALSO READ:
Dia Mirza set to marry businessman Sahil Sangha and quit acting?
Follow Emirates 24|7 on Google News.