Dubai Premiere: Shah Rukh, Deepika, Abhishek lead 'Happy New Year'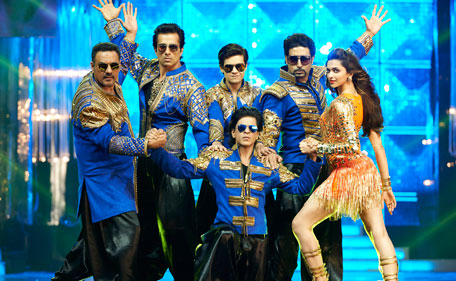 All roads will lead to Atlantis The Palm tonight as Dubai rolls out the red carpet to welcome Bollywood glitterati for the world premiere of 'Happy New Year'.
Yet, even as Shah Rukh Khan, Deepika Padukone, Abhishek Bachchan and the star-studded cast of this Farah Khan-directed film play up for the cameras at today's exclusive screening, the spotlight will ultimately spread its perimeter to encompass the city of Dubai as it reinforces its status as a competitive filming and production hub.
In a statement to the media, director Khan said: "I wrote the script of 'Happy New Year' with Dubai in mind and the entire climax is shot around New Year's Eve here."

Earlier, Shah Rukh confirmed with this website that 40 per cent of the film was shot across Dubai, with UAE residents recognising several landmarks in the film, including Atlantis The Palm, the Burj Al Arab, the Dubai Mall Ice Rink, Dubai Airport, along with a crucial chase sequence that has been filmed in the Hatta desert.
Jamal Al Sharif, Chairman of Dubai Film and TV Commission (DTFC) and Managing Director of Dubai Studio City, which facilitated the shoot, said: "Dubai's connectivity, world-class infrastructure and diverse locations have set it apart as a leading production destination, and the emirate is playing an increasingly important role as a key part of the Bollywood production value chain.


"Of a total of 14 productions facilitated by DFTC so far this year, 10 have been Indian productions, which is real growth when compared with previous years."

Biggest Bollywood release

Distributors, Yash Raj Films, has also revealed that 'Happy New Year' will receive one of the biggest releases for a Bollywood production across the UAE and the GCC.

Nelson D'Souza, Head of Operations-MENA at Yash Raj Films explained further: "As Shah Rukh revealed earlier that more than 40 per cent of the film has been shot across the city justified the demand and the need for 'Happy New Year' to open to a bigger audience.
"The movie is being released across 75 locations in the UAE and the GCC, with 40 of those in the country alone; this means between 150 and 200 screens will be showcasing 'Happy New Year' with cinemas showcasing the film across 2-3 screens at one time."

D'Souza further said that the only other film that has opened to such huge numbers is Aamir Khan's 'Dhoom 3'.

"The pull of Bollywood goes beyond the Asian diaspora alone, with 'Happy New Year' emerging as a crowd puller also for Arabs who watch Hindi films and others who know a large chunk of the movie has been shot locally," he said.

The movie, which releases across UAE cinemas on October 23, also stars Boman Irani, Vivaan Shah, Sonu Sood and Jackie Shroff as its central cast.

Several Thursday and Friday screenings to the film have already resulted in sold out shows in the evening across few screens at Vox Cinemas and Novo Cinemas, while others are offering limited seating in others.

Other films make their way

Even as the buzz surrounding 'Happy New Year' reaches fever pitch, another film has quietly slipped into the city below the radar as the Bhatt production, 'Hamari Adhuri Kahani' has been filming at locales around the city with actors Vidya Balan and Emraan Hashmi in tow.

Earlier in the year, 'Welcome Back' saw the likes of Anil Kapoor and John Abraham make their way to the city for a month-long film shoot.

DTFC says Bollywood production teams are increasingly looking to Dubai as a budding filmmaking hub, within close proximity to India, which can support all of their filmmaking needs.

DTFC further revealed future developments have been taking place to meet this objective, including constructing three new sound stage studios in Dubai Studio City (DSC) in 2013 with a built-up area of 65,118 sqft.

Al Sharif further added: "The increasing number of Bollywood productions selecting Dubai as the location of choice for filming, screenings and premieres, is testament to the close ties enjoyed by Dubai and India, as well as the emirate's growth as a global production hub that can support all of the needs of productions."
Follow Emirates 24|7 on Google News.