Dubai's Bengali Film Festival: Intimate yet ambitious endeavour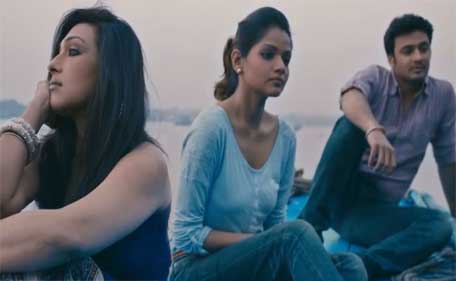 The second edition of 'Abhijaan', the Bengali Film Festival in Dubai, is back after the inaugural edition ran to full houses in January 2014.
Born out of a passion to watch Bangla movies on the big screen in their adopted countries, 'Abhijaan' is the brain child of a group of Indian expats in the UAE. The festival will run from February 5 - February 7, 2014 at Conference Centre, Knowledge Village, Dubai.
An organiser of the Festival, Rupa Dutta Chowdhury explains: "We would often find ourselves discussing the current genre of Indian movies doing so well and how the audience these days are so hungry for meaningful cinema. But the expats were deprived of many such regional masterpieces in the Middle East."
She adds: "Though the proverbial brainstorming session generally happens over a cuppa, but for us it happened over a plate of Biryani when a friend, Shibani, came up with the idea of a Bengali Film Festival in Dubai.
"Being truly passionate about good quality cinema, we all jumped on board, with nary a thought."
However, the buck doesn't stop with the movies at 'Abhijaan'. The Festival will also include a panel discussion, 'adda' (read: a blend of conversation, debate and gossip session) with the stars, and an opportunity to shop for sarees and accessories from Bengal, as well as browse through artwork on display and much more.
Abhijaan 2015 will welcome renowned movie stars, directors and distributors from the Kolkata film industry.
The guest list includes Rituparna Sengupta, a national award winner and other luminaries such as Dhritiman Chatterji, Saswata Chatterjee, Srijit Mukherji, Arindam Sil Arijit Dutta, Anindya Ghosh, Bauddhayan Mukherji, Rana Sarkar, Manoj Michigan, Avishek Ghosh and Sanjay Pathak.
While the debut event in 2014 celebrated 100 years of Indian Cinema, 'Abhijaan' 2015 hopes to be intimate in its scale but ambitious in its scope as it prepares to showcase a selection of Bengali films with universal themes.
For those who do not understand Bangla, all films will have English subtitles and will have pan Indian themes.
The line-up of films in 'Abhijaan' 2015 includes...
Thursday, February 5
9pm: CHATUSHKONE
Srijit's Mukherji's masterpiece thriller, 4 Directors…one theme.. DEATH!!!
Starring stalwarts like Aparna Sen, Chiranjeet Chakraborty, Gautam Ghose, Kaushik Ganguly, Parambrata Chatterjee.
Friday, February 6
12pm: BHARAATE
A happily married couple..An addictive togetherness..An untimely death..And an ancestral house..Then she will enter your house... And turn your life around.... a film by Anindya Ghosh, starring Rituparna Sengupta, Arunima Ghosh.
Friday, February 6
3pm: TEENKAHON
Bauddhayan Mukherji's debut directorial venture has earned rave reviews and won numerous awards at various Film Festivals across the globe.. starring Rituparna Sengupta, Dhritiman Chatterjee, Sabyasachi Chakrabarty.
Friday, February 6
6pm: BYOMKESH PHIRE ELO
Byomkesh is called upon for help by police to solve the murder mystery of a wealthy old man Benimadhab and his servant Meghraj. He and Ajit find the case submerged in crooked intentions of family members.
This is the third installment and the last appearance of Abir as Byomkesh. Directed by Anjan Dutt, the film is based on Beni Sanghar by Sharadindu Bandyopadhyay. Also starring Saswata, Usashi.
Saturday, February 7
11am: 89
A psycho-crime thriller directed by Manoj Michigan starring Saswata Chatterjee, Raima Sen and Shataf Figar. After playing the cold blooded and polite murderer Bob Biswas in the Bollywood blockbuster 'Kahaani', Saswata Chatterjee will be seen here as a suave and ruthless character.
Saturday, February 7
2pm: EK PHALI RODH
Film-maker Atanu Ghosh deals with a unique theme that has not been seen on Indian cinema before.... the "Bystander Effect".. Mock Crisis Scenarios VS Real-life Crisis.. starring Dhritiman Chatterji, Ritwik, Aparajita... Being a talented director, Atanu has created a beautiful relationship tale out of it.
Saturday, February 7
6pm: EBAR SHABOR
The second directorial venture of Arindam Sil, after his much acclaimed debut film Aborto. Ebar Shabor is the kind of film that leaves a lingering aftertaste — the kind that makes you crave for a repeat watch.
And that too when you already know who the murderer is! What better benchmark can a film set? Starring Swastika, Saswata, Abir.
Follow Emirates 24|7 on Google News.