Miss Philippines 2012: Why Janine Tugonon did not win Miss Universe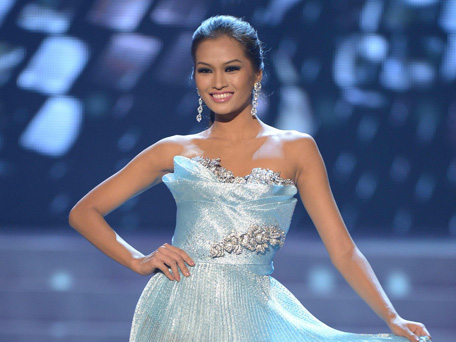 Even as Miss USA Olivia Culpo was crowned Miss Universe 2012 and the most beautiful woman in the world, her victory came as a big surprise as a majority of viewers were expecting Miss Philippines Janine Tugonon to win the crown.
Tugonon ended up in second place, but a number of users, especially Filipinos, exploded on Twitter with their disappointment over the loss.
The Philippines has not won the pageant since 1973 when Margarita Moran won. The only other time that the country has won the contest was in 1969 when Gloria Diaz was crowned Miss Universe.
Shortly after her first runner-up finish in this year's Miss Universe pageant, Miss Philippines Janine Tugonon shared her disappointment at not winning the crown.
Janine said she honestly thought that she could have easily become the third Filipina to get the coveted Miss Universe title.
"I want to be honest na siyempre, oo naman, naisip ko na 'yun, may pag-asa ang Pilipinas. Pero siyempre, inihanda ko na rin ang sarili ko [na matalo]," she said.
"Dapat mag-expect ka ng best pero at the same time, maging humble ka na rin to accept na hindi ka rin mananalo. Parang ganoon," she added.
But the Filipina beauty was gracious enough and said she felt nervous yet happy that she made it to the Top 2.
"Nagpra-pray lang ako noon. Sabi ko 'Lord, thank you. Thank you talaga,'" she said
Miss Universe 1969 Gloria Diaz said it does not matter that Miss Philippines Janine Tugonon did not clinch the crown during the Miss Universe 2012 pageant, and said that what's more important is what she intends to do after the international competition.
"They were all gorgeous, each one. Some like white, some like black, some like brown. Let me tell you once and for all, it doesn't matter whether you win or you lose. It's what you do after," she said.
Gloria is the first Filipina to take home the Miss Universe crown, noted that there have been beauty queens who simply quietly faded away after winning, as well as runners up who have capitalised on their exposure.
She shared why she thought Miss USA Olivia Culpo won the competition.
"You can see we all identify with her answer. Sometimes it's not necessarily the smartest or the wittiest. Sometimes, it's the most acceptable," she said.
During the competition, Miss USA was asked to name one thing she would never do again. "Picking on my siblings growing up," she replied.
Nonetheless, Gloria praised Tugonon's performance during the question and answer portion.
"I just thought she was gorgeous and she gave a very good answer. That's the way that I felt about Venus (Raj, 2010 Miss Universe fourth runner up), Shamcey (Supsup, 2011 Miss Universe third runner up) and Miriam (Quiambao, 1999 Miss Universe first runner up). Parang there was no other choice," she said.
The mother of 2012 Miss Universe first runner-up Janine Tugonon said she was disappointed that her daughter did not win the crown.
But in a phone interview, Tess Tugonon said Janine will still be her queen even without the crown and the title.
"I'm a little disappointed but the judges have made their decision. Deep in my heart, I know Janine deserves the crown. A lot of people also feel the same way that I do. I'm sure of that. I love her. It's just a crown," she said.
What do you think: Should Janine Tugonon have won the Miss Universe 2012 competition? Or was Miss USA Olivia Culpo the deserving winner?
ALSO READ:

Miss Philippines 2012: Janine Tugonon runner up at Miss Universe



Hopefuls gather in Las Vegas for Miss Universe 2012



Miss Universe 2012: Why India failed
Follow Emirates 24|7 on Google News.