Bollywood Review: Akshay Kumar, Abhishek Bachchan monkey around in 'Housefull3'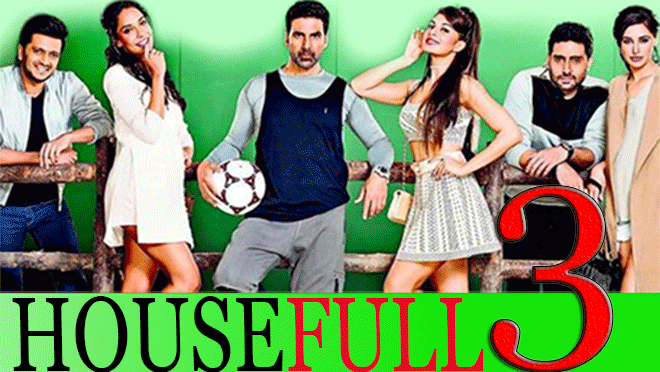 'Housefull3' is truly tragic.
It's, undoubtedly, humour of the lowest kind.
We sit, horribly shocked and deeply scared, watching director-duo Sajid-Farhad take unfunny potshots at the physically and mentally-challenged.
It's a trick most Bollywood directors blindly bank on, because they believe it will be cheered. Only, in here, those set-pieces are horribly convoluted and devoid of genuine wit.
There's even a moment towards the end, when the men are forced to confess and regret their insensitivity, albeit through a song. So, it's bad enough that the directors piggybank on such cheap thrills throughout the better half of the movie, only to suddenly turnaround and pretend to be righteous, and preachy.
While the customary fat men/women jokes don't make it to the final cut, the "coloured" ones make a fleeting appearance (thankfully). Even animals are spared their few seconds of unfortunate Bollywood comic moments, but those omissions never really redeem 'Housefull3'.
Sajid-Farhad, who are prolific writers of Bollywood "comedies" and made their directorial debut with 'Entertainment', lack insight or comic genius to weave together a fun movie.
Instead they throw in a bunch of Bollywood good-lookers - some talented, some not; some aged, some not - and hope they might be able to miraculously elevate their brand of comedy.
But, their men (and women) aren't able to uplift a script on their own. So, all they do, is gleefully monkey around.
While the women (all three of them) invest entirely in perfecting their pouts or flaunting their beach bods, the men struggle to tickle us. Even their attempts at "roasting" themselves appear, unfortunately, hackneyed and unoriginal.
Akshay Kumar, despite showcasing talent in movies like 'Special 26' and 'Baby', reduces his worth by taking on comedies like these. There's a flashback of 'Airlift', and a strange split-personality disorder, that highly annoys.
Abhishek Bachchan also gets to take a dig at his legendary lineage. He's seen posing with his dad's (senior Bachchan's) wax statute, and asking for his blessings, before rapping 'Abhi-Shake..Shake...Shake..." Why this is funny, I cannot tell.
And, there's Riteish Deshmukh, who showed impeccable comic timing before, but 'Housefull3' is where he ruins that impression. "There's a line where he calls his girl Genelia (his wife), instead of Jenny. Another moment when the writers failed to crack it.
Of the women, Nargis wins over the rest for wearing the same expression, all through, and that is truly remarkable, and consistent. The girls, happily speak in their American twang, even though they are playing Brit-born sisters. But, then again, Bollywood isn't big on such details.
There's also Jacky Shroff (who calls his newly-acquired sons "my three Tigers"), and Boman Irani, who are handed characters and lines that border on weird.
The writing is also mediocre, with the director duo, penning dialogues that play off literal translations of famous English sayings. "We are not making kids, one girl says in Hindi, and later explains, "I meant, we are not kidding." These routines are repeated, and repeated, ever so often, that it turns thoroughly exhaustive, leaving us crushed.
It's a miracle, we walked out, unharmed.
But, we wouldn't dare to ask you to take such a risk. Stay away, you'll thank us later. Trust us.
Follow Emirates 24|7 on Google News.