Bollywood review: Amitabh Bachchan takes on Farhan Akhtar in 'Wazir'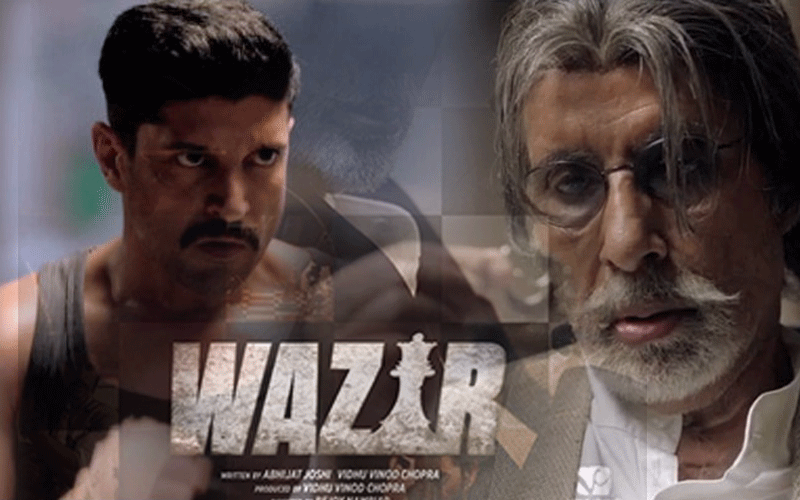 Very rarely in Hindi cinema do directors land (or write) scripts that defy Bollywood stereotypes, where heroes aren't single-handedly thumping baddies or breaking into a dance with their women. So, when Bejoy Nambiar sets off with two men, one wheelchair-bound and one otherwise, it peaked our interest.
Over the one-hour-and-forty-minutes of screenplay, we watch Nambiar and the exceptional Sanu Varghese skillfully lend meaning and momentum to the two lives united in their tragedies.
It's exploding with potential, and for most parts, Nambiar doesn't falter, keeping us hooked till the end. The initial combat sequences, as cars explode and men pump bullets into each other, is gripping and dealt with precision.
Much of 'Wazir's' power lies in its intriguing end, and the stellar act by the legendary Amitabh Bachchan.
He dazzles as the amputee grandmaster, as he wheels around gleefully, laughs in abandon, and derives meaning from his army on the chequerboard. He cracks various emotions with flair, leaving us mesmerized. He's undoubtedly a magician on wheels. It's him, and him alone, that 'Wazir' owes much of its honour to. A scene where he recalls a man's weak moment by pushing his fingers up his jaws is genuinely heartbreaking.
Like the old man in 'Wazir' pompously announces, "It's an Omkar Nath Special".
'Wazir', in that essence, is an "Amitabh Bachchan special".
Unfortunately, Farhan Akhtar is no match for the genius. He obediently wears a frown and struggles through the emotional ups and downs of disgraced cop Daneesh, but never manages to own him. There are glimpses of talent when he steps into the battlefield for revenge, or as he sits in the dark drenched in his own misery. But, those are far too few to merit applause, or value.
While Aditi Rao Hydari isn't allowed to do much but tear up or twirl, Manav Kaul lands a meatier, menacing part to dig into. He's talented, and showcases immense grit and clarity in his performance. There's John Abraham, who steps in for a few minutes, and Neil Nitin Mukesh, who flaunts his kohl-smeared eyes and laughs menacingly to scare. The boys, who had teamed up in 'New York', are fairly good.
Despite flaunting a narrative that's untouched by Bollywood sensibilities, 'Wazir' soon slips into a musical. Every time the man and his woman lock eyes, a romantic tune fills up the backdrop, reducing its worth. Poetic, yes, but misplaced in this genre.
There's also Kashmir thrown in, unnecessarily. It makes for great frames, no doubt, but not enough to warrant any relevance.
Writers Vidhu Vinod Chopra and Abhijat Joshi might have cracked an interesting storyline, originally planned in English as 'The Fifth Move' in 2003, but over the years its lost its sheen. And that's a shame, really.
Having said that, this is a movie that should encourage more filmmakers to go all out, and take on thrillers without reducing them into song-and-dance projects. And, for that, we are thankful for 'Wazir'.
Follow Emirates 24|7 on Google News.