Bollywood review: Arjun Kapoor's 'Tevar' pays tribute to Salman Khan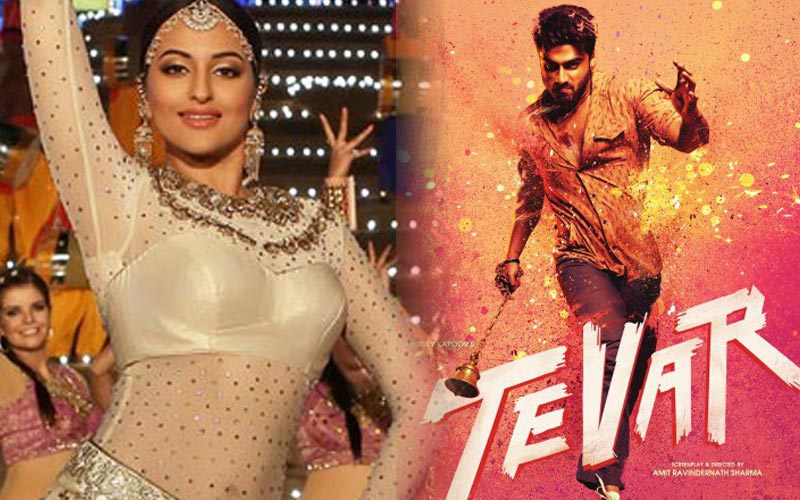 What do you get when you mix Rambo, Terminator and Salman Khan?
It's Pintu aka Ganashyam.
It may appear a dull name for a Bollywood hero, but his spirit and attitude, almost makes up for it.
Our self-proclaimed superman and "fan of Salman Khan" is on a mission in 'Tevar' to protect women from lecherous baddies. So, every time he sees a woman tortured, teased or abused, he steps in to thulp the goons into pulp.
While his operations often ends up with roaring applause, one lands him with the local gangster's "fiancé".
Stuck without much option and a dainty princess to guard, Pintu decides to flap his unseen cape and play his superhero alter ego instead. What it does win him in return is newfound respect from his mama and papa, some cool dance moves with a hot item girl, approval from his nagging kid sister, and love of the most passionate kind.
Kick-starting the new year is young gun Kapoor, who takes over from seniors Ajay Devgn, Akshay Kumar and his mentor Salman Khan to lend Bollywood flavour to an earlier South-Indian blockbuster ('Okkadu').
Much like the other remakes, director Amit Ravindernath Sharma's work is deafening and purposeless, and plugs romance and prompts hopeless lovers to spend much of their screen time wrestling and punching for love.
Although the movie begins with Pintu attempting to win the 'Kabbadi' championship, he gets blinded by love, and soon loses focus. If you've watched the trailers, then you could easily skip the first-half, and slip into the theatre for the second-half.
The narrative is predictable, and often sluggish, but Laxman Utekar's striking cinematography peps up Amit Sharma and Shantanu Srivastava's screenplay impressively. Unimaginative product placements just add to the mess.
Arjun Kapoor, who gets his influential daddy Boney Kapoor's to back him for his sixth movie, fails to pump it up. He snarls and smirks, glares and growls, with earnestness, but soon falls into a tiring routine.
It's a given that Bollywood kitsch is more about flamboyance and less about realism, but it's unfortunate that daddy Kapoor didn't find a more significant part for his junior.
Sonakshi Sinha plays the lady in demand with minimal make-up, long curls, and minus her trademark eyelash extensions. She might win points for looking different, but the writers don't allow her character to grow or influence. She's left voiceless and sandwiched between two strange men. Barring one moment when she yells her man into silence, she's fairly muted.
Veteran Manoj Bajpayee is faultless as the villain, who is unafraid to walk with his pants down. Even though we've seen his menacing acts before, he manages to thrill and scare with aplomb each time.
Raj Babbar and Deepti Naval have bit roles, but it's Arjun's kid sister who is the most fun to watch.
Had director Sharma tweeked the storyline and injected charm and passion into it, it might've turned things around. It's unfortunate, he didn't.
Follow Emirates 24|7 on Google News.