Bollywood review: Deepika, Ranveer's epic romance in 'Ram Leela'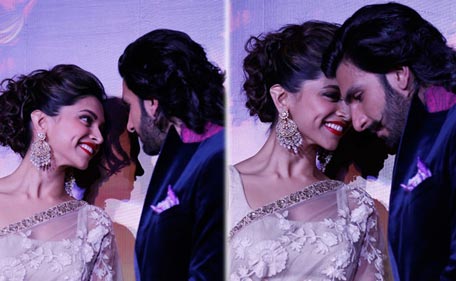 Bursts of colours fill the frame as a young man and woman lock eyes, while flirting with their weapons – one a loaded revolver, the other a loaded water gun.
Their gaze remains unwavering, despite the madness that erupts in coloured patterns around them.
There's a flash of their menacing, yet passionate personalities. One smirks while pulling the trigger of his water gun, while the other pumps a bullet into the sky.
Those few seconds are in essence what encapsulates Sanjay Leela Bhansali's epic romance 'Ram Leela'.
Wild. Inexplicable. Passionate. Dreamy.
Although Bollywood has predominantly survived on a staple of romance, what with numerous 'Romeos' and 'Juliets' fighting against all odds, including angry parents, conniving aunts and uncles, and prying society, for love, many have skipped the Shakespearean tragic end, for the "happily ever after".
There have been exceptions like 'Qayamat Se Qayamat Tak' and 'Ishaqzaade', which adapted Shakespeare's love story sincerely, so Sanjay's 'Ram Leela' isn't novel in thought, but he has tweaked it with incredible passion and intensity, making it one of the most befitting adaptations ever.
And, he's got the ravishing Deepika Padukone and the boisterous Ranveer Singh to thank for making this epic love story soar to great heights.
They lend impeccable passion to Ram and Leela, leaving us routing for them even when life plays out cruel jokes.
Sanjay and writers Siddharth-Garima have flavoured it with such ferocity and flamboyance making it deeply invigorating.
There's Sanjay's trademark opulent sets and extravagant dances (an item number even), but those speed-breakers do not dilute Ram or Leela's fiery romance, which unfold in a land notorious for its trigger-happy people.
A place where owning or selling a gun is not illegal, but loving one's enemy is.
Despite belonging to warring clans in the rustic Raajaar, where people pump bullets or shatter bottles to celebrate victory or defeat, Ram and Leela strike an intense bond that simmers and rages through life's numerous tragedies and a bloodied past.
Even when they are forced to abandon their dreams to indulge their feuding families, the two remain deeply connected and refuse to allow different circumstances to influence their heart.
An untypical "finger sacrifice" is just an indication of how volatile their love is.
They are seen secretly enjoying, and even cursing the irony, when references, like that of the traditional art form (Ram-Leela), link their names.
Cinematographer S Ravi Varman textures and tones the Ram-Leela love affair with immense colour, unlike Sanjay's earlier gloomy tales 'Guzaarish' and 'Black'.
Apart from the mushy sequences, which are accentuated by Siddharth-Garima's lines riddled in poetic bliss, the gun battles are equally arresting.
The sequence, which captures the Rajadis and Saneras, sitting across each other and playing with their guns as drinks and bottles come crashing down, is visually impressive. The consequence, equally dramatic.
Ranveer and Deepika make the perfect Romeo-Juliet, lending charm, beauty and vulnerability to the epic saga.
Ranveer bursts into the scene by flashing his well-chiselled bod and killer dance moves, and plays the robust Ram, who unlike his violent family, prefers to ditch the blood battle to pamper his heart.
He's pitch-perfect as the Ram, who is unabashed about his illegal pursuits as he is about being ridiculed a romantic.
It's interesting to watch him switch from a charming bloke, who cashes in on people's hidden desires, to one who fiercely battles the world to own his ladylove.
Deepika lends him the perfect balance as his Juliet. She's remarkable as the impish Leela, who willingly surrenders her heart to her enemy, and remains loyal even when the circumstances change.
The supporting cast is equally remarkable, with Sanjay giving seasoned actress Supriya Pathak one of her career's most impactful characters. She breathes menace and élan into playing the raging queen of one warring group. Her kohl-smeared eyes and ornate costume add up the terror extraordinarily.
Even few-films-old Richa Chadda gives an outstanding performance as Leela's wounded sister-in-law.
While Sanjay's indulgent script, which runs into two-hours-and-thirty-five-minutes might appear a bit tedious, we forgive him because what he eventually spins out is an enchanting love story.
Follow Emirates 24|7 on Google News.