Bollywood Review: Does Akshay Kumar elevate 'Rustom' into being more than regular fare?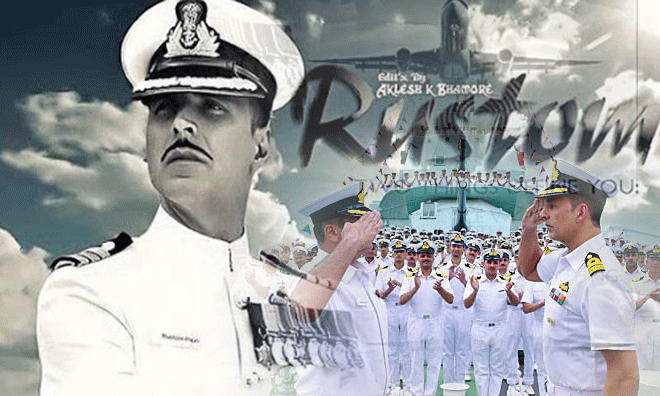 There's something strangely inspiring about men in uniform.
They stand for honesty, truth and bravery.
So, when one of them willingly walks on the wrong side of the law, it makes for an intriguing story.
One that director Tinu Suresh Desai cleverly weaves into a Bollywood courtroom drama.
However, he doesn't make it a faithful copy. Instead, he borrows notes from the controversial Nanavati case (1950s), where a jury had pronounced a naval officer "not guilty" despite him murdering his wife's lover, and employs writer Vipul K Rawal to inject a highly implausible conspiracy theory into the screenplay.
'Rustom' shows promise, but never throws up any surprises.
What elevates 'Rustom' in stature is the detailing, with vintage costumes and sets adding depth and authenticity to a story that unfolds in the 1950s. Some graphics, however, are inferior, even dodgy, reducing its impact.
Vipul scores for a few colourful characters, who capture the pulse of the 1950s. It's the overzealous newspaper boy deploying drama and sensational tidbits to sell papers, or the lanky fellow selling courtroom seats for a premium, who capture the pulse of those times. Even the podgy editor who strongly believes the fight is between communities, and nothing else, is deftly designed and portrayed.
'Rustom', nevertheless, would've benefitted by a tauter edit. Its pace dips randomly, over songs and lengthy flashbacks, thus ruining its impact.
But, much of the damage is salvaged by few striking performances. Akshay Kumar thankfully abandons his flamboyant Bollywood hero moves and muscle flexing urges to lend integrity and intensity to the celebrated naval officer. He's calm, understated even, only investing in his expressions to explore what prompted an officer to pull the trigger.
It's not a cut like 'Special 26' or 'Baby', but Akshay puts up an honest act, handling the courtroom sequences with finesse.
If we had a bone to pick, it's his decision to stay in uniform throughout, forcing us to question if the pristine white set ever gets washed, considering it never appears soiled over the course of the legal tug-of-war. Or, how he's a celebrate hero despite his villainous deeds.
Illeana D'Cruz handles deceit and remorse elegantly. Despite being in the wrong, she lends Cynthia immense dignity. Esha Gupta, however, is unable to hold her own as the wounded sister. She rolls her eyes, pouts her red lips, and reduces Ms Makija into a mere stereotype.
Fortunately, 'Rustom' showcases some incredible talent for its supporting parts with Pavan Malhotra as the diligent cop and Kumud Mishra as the conniving scribe.
The foundation of any credible courtroom drama lies in its writing, which Vipul offers to 'Rustom', but there are those rare moments of heightened theatrics, which creep in and damage 'Rustom'. Yet, it deserves credit for pitching a story on a case that historically altered the Indian judiciary system.
Follow Emirates 24|7 on Google News.