Bollywood review: Dubai shimmers in 'Welcome Back,' but is that enough?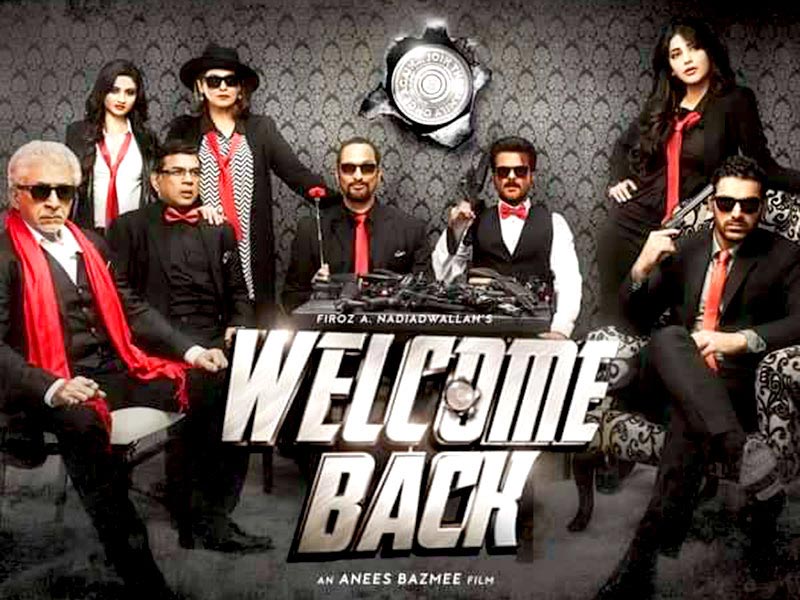 When Aamir Khan walked on-screen wearing nothing more than an ancient transistor hanging down from his neck, it created a box-office sensation (of sorts), but when the exact same trick is blatantly copied, this time, with the pesky funnyman Raajpal Yadav in the fore, it appears unfortunately tacky.

While that sequence might've been Aneez Bazmee's overzealous attempt at poking fun at Bollywood, it's so tawdry that it fails to tickle us.

What it does, in turn, is leave us highly exasperated.

Watching Anees' madcap gangsters – Majnu and Uday – jump back into action from where they left off back in 2007 ('Welcome') is a tedious exercise. One, that teaches you to "load our imaginary gun" but to stay in "control" despite knowing the outcome won't be fun.

He throws in everything from mindless action, insipid romances, mediocre one-liners, item songs, silly bromances, and cheekily turns up the volume. So, every character works tirelessly on twisting their facial muscles and amplifying their voice.

Writers Rajiv Kaul and Anees borrow the same thread of absurdity from the original, and send the whacky Uday and Majnu to find a "decent groom" for their newly acquired sister Ranjana. And, this time too, they end up knocking at Ghungroo's door. But, it's never a smooth ride for the mad duo, and what follows is an absurd journey that stretches on hopelessly forever.

At one point, the strong hero is seen flying and hopping over camels for a strange rescue mission, and no, I'm not making this up.

Anees' characters, each more obscure than the other, works continuously to tickle us, but unfortunately, the routine appears forced and unfunny. If they aren't mouthing strange one-liners, or making funny faces, they are busy gyrating to silly dance tracks.

Anil Kapoor and Nana Patekar do all it takes, and appear genuinely earnest, but its tiring to watch them bounce around for no real reason. There's also the celebrated Paresh Rawal, who manages to hold his own, despite landing a character that isn't allowed to flaunt his comic genius.

John Abraham remains calm, and lets his seniors do all the work. He pitches in with his shirt-less pose, and that's probably a wise thing to do. Shruti Hassan too manages to stick to the pouting and posing.

There's also Dimple Kapadia and Naseeruddin Shah. One wonders what prompts actors of their stature to step into a frame that glorifies buffoonery.

While the laughs were limited, it was indeed delightful to see Dubai shine and shimmer. This could possibly be one of its few highlights.

Movies like 'Welcome Back' or its predecessor 'Welcome' are best left untouched.

It's madness that could entertain you if you are wired weirdly.


Follow Emirates 24|7 on Google News.