Bollywood review: Kangana hits double whammy in 'Tanu Weds Manu Returns'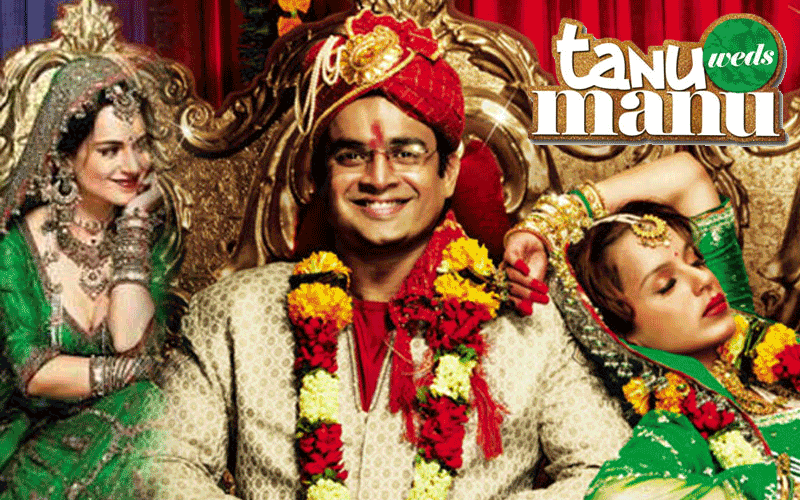 Just minutes after the annoyingly submissive Manu returns on our big screen trying to desperately reason with his brash wife (of four years) Tanu, he's forcefully enrolled for therapy.
While the wife shows little or no remorse, and drinks away her sorrows (and possible loneliness), she calls her husband's bestie three days later and orders him to bail him out.
Exposing the "happily ever after" myth is director Aanand L Rai, who spins a sequel from his sleeper-hit 'Tanu Weds Manu'.
"I have been suffering for the past 40 years," grumbles Manu's pony-tailed father, as his mother continues to yell and abuse in the background. "You just have to manage."
It's a fun twist to a not-so great original. Probably a rarity in celluloid, where the sequel is far more entertaining than its first part.
Rai reunites the main cast, and introduces the talented Rajesh Sharma and Mohammed Zeeshan Ayyub to add madness to the proceedings.
Although there are numerous jarring inconsistencies and illogical twists and turns in the screenplay and a melodramatic climax, much of it is overlooked because the acting is superlative and the writing spectacular.
Kangana Ranaut takes the lead with her double act. She's pure genius. She never allows her characters to overlap, or reduces them to just contrasting hairdos. Despite sharing physical features and temperament, which are key to the narrative, Tanu remains distinctly different in texture and tone to the rustic Datto.
While her short-haired, bunny-toothed Datto is endearing, we can't help find a soft-spot for her rowdy lookalike. So, when the meek Manu struggles to make a choice, we feel his predicament.
And, stepping in the second position is the hilarious Deepak Dobriyal, who leaves us in splits every time he bursts onto the screen. "Why are you wearing this? Didn't you get any with stripes on," he cheekily asks his friend, who is released from a mental asylum.
He's on top of his game, and 'Tanu Weds Manu Returns' owes much of its success to Dobriyal's incredible comic timing.
Whether he's pursing a not-so eager, "whatsapp" lover, or willingly allows his image to be tarnished for the sake of friendship, he's top-notch.
Apart from piling on a few pounds, Madhavan is unable to flex his acting chops as the spineless Manu. Blame it on Manu's personality or the limited character-sketch, he's left to do a lot with his eyes and dimples, and nothing else.
Like Pappi points out, Manu's clearly not as charming as Shah Rukh Khan or Salman Khan to warrant attention or applause.
A moustached Jimmy Shergil slips back, but isn't given much to do, apart from playing a silent spectator.
Much of the film rides on writer Himanshu Sharma's incredibly wicked lines.
"Judging by the traits you've said, all women should have bipolar disorders," reasons a doctor.
Or when, Manu's turbaned best friend quizzes him on his choice of women; "Why would you take mercs in different colours?"
So, if you can look past the melodrama, 'Tanu Weds Manu Returns' provides some great laughs. Go on, LOL (much like how Pappi would like it).
Follow Emirates 24|7 on Google News.