Bollywood review: Kareena, Arjun break no stereotypes in 'Ki and Ka'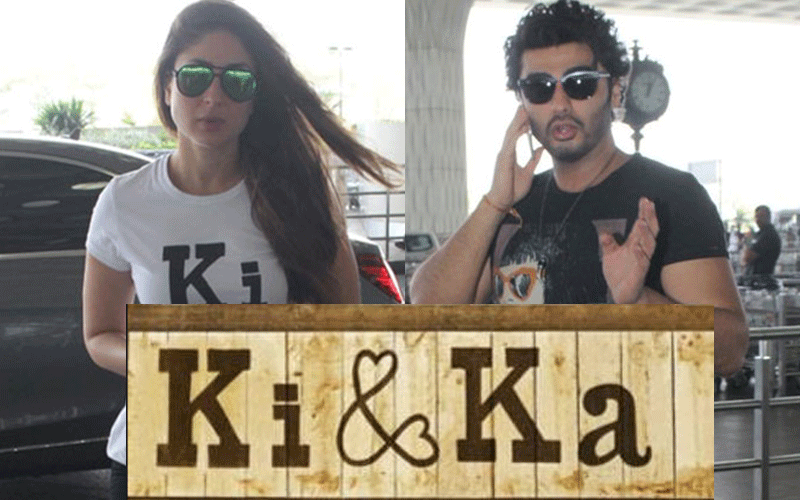 Men are from Mars, and women are from Venus.

A clichéd metaphor that director R Balki would've possibly wanted to crush with his modern-day romance 'Ki and Ka', only his newly constructed world of love crumbles, rather unceremoniously, without every fighting those stereotypes. Instead, he muddles it up by creating more stereotypes.

So, Balki's 'Ki and Ka' may switch planets, or swap roles, but their actions are superficially daft and stereotypical.

In here, the man cooks, cleans and even wears the mangalsutra (on his wrist), while the woman earns a living without ever helping around the house.

Had he given more insight into the role reversal, it would've presented immense scope for drama and action, but Balki's busy selling product placements or tweaking new-age man-woman equations that he forgets to tap into the real conflict. So, his couple end up squabbling without reason and dragging each other down. It's then, money over love. And, that, Ki's mother will tell you is about "being human".

When we meet Ka-bir, he's gleefully twirling his apron (and flashing his high-heels), while his Ki-a shows-off the brogues and sets out to conquer the (marketing) world. They aren't run-of-the-mill, so their marriage gets them into the spotlight, with everyone, from Amitabh and Jaya Bachchan, wanting to hear their story. And, while they initially love the attention, they end up bickering over having to the share the limelight.

Between all this, there's an apartment that goes through a strange makeover, from being ethnic to freakishly eerie with trains (in different sizes) chugging along, a Dubai holiday that strangely ends up in bed, and a pregnancy test gone horribly wrong and unapologetically clichéd.
It's set in Delhi, so there must be an empty bus and few obnoxious men, who tease the girl, and get trashed by the guy. It's typical Bollywood, but sticks out like a sore thumb in Balki's 'Ki and Ka' and ends up it's weakest link. Next up is Kabir's strange exercise movement that wins him cash, but cheats the ladies of weight-loss.
Kareena Kapoor Khan and Arjun Kapoor work on their bodies, but don't invest entirely in Ki and Ka. Most of the scenes are locked down by lengthy dialogues, and Arjun struggles to find the right emotion to make them work. He's mostly sheepishly grinning or balancing his bulky bod on segawheels. Clearly not an act that he has had to work on. Kareena too plays it safe, never flaunting her acting prowess.
Balki, who had earlier worked magic with 'Cheeni Kum', creates a messy love story in 'Ki and Ka'. Leave it untouched, and you will not regret it.
Follow Emirates 24|7 on Google News.