Bollywood review: Prakash Jha hijacked 'Jai Gangaajal' from Priyanka Chopra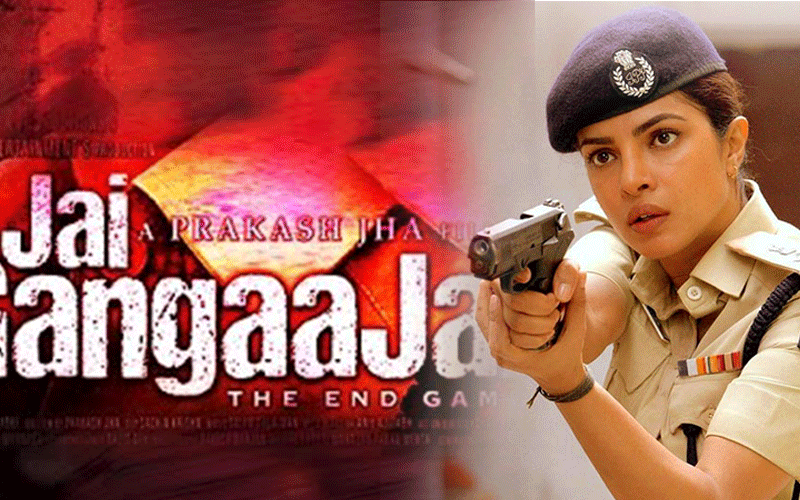 Bollywood's clearly setting the stage for its women folk. No more item jigs or random romantic interludes for the pretty young things. At least, not for some.
So, either they are ditching their men to chase their own dreams, or getting dirty in the boxing ring, or saving lives on ill-fated planes. Barring the controversial pay equality, the women in Bollywood are slowly working their way up the ranks. Or so, they have us believe.
Their growth, however, is suddenly turning superficial. As, 'Jai Gangaajal' will showcase.
A movie that promises to pitch a story of a woman cop battling rowdy politicians suddenly shifts loyalty and lets its male cop hog the spotlight, instead. It's another matter that the man in uniform is played by director Prakash Jha, who is also the producer and screenplay (and story) writer.
And, when he's not playing the hero, Jha writes up numerous characters - some nasty, some straight, some righteous, and some confused, and weaves them all into one big story, leaving us, rather exhausted.
It could take a while to get clued in, but Jha constantly challenges you, springing more surprises, sub-plots and characters all along his extensive narrative. There's a bit about corruption, women's rights, farmer suicides and mob justice, all tied into one canvas.
Jha is busy playing good cop-bad cop, but never genuinely warms up. He has his moments, no doubt, but there are many where you sense his discomfort, or disconnect. Even his transformation, especially when he gets irked over someone disrespecting the uniform is overtly, and unnecessarily melodramatic.
Then, there's his lady cop, who everyone addresses as "madam-sir", brilliantly referencing the unease that the men in the force feel at having a woman to obey. It's clever, but it soon loses steam.
Armed with a baton and the Bollywood cop staple – aviators, Priyanka Chopra works out a menacing lady cop in Abha Mathur. A (sur)name, she repeats so often that we are reminded of the reference to her 'Fashion' girl act. Possibly why she slips into a catwalk, every time, the camera follows her in slow-motion before every crucial fight sequence.
That said, Priyanka is sincere. Only, the focus is mostly on her perfectly tied hair-bun tucked neatly beneath her cap than on any real heroism. Yes, she whips the men real bad and thumps them into pulp, but when she gets up and walks away her uniform is magically clean and crinkle-free, and the focus on her lush eyelashes. It's Bollywood routine, we know, but if Jha is claiming to revolutionise and clean up the system, we expect him to be real in his cinematic effort.
Manav Kaul and Ninad Kamat play the menacing brothers with silly names - Babulo and Dabulo. One's busy playing the corrupt politician, while his younger rogue brother is conspiring to make a profit on farmers' land. While Manav is top-notch, Ninad tries to match up. These characters are routine in Bollywood badlands, so they each stick to the rule book.
There's also Rahul Bhat as the man who gives up his million dollar career to work for his village. The only hiccup being, he appears strangely laid-back and pointlessly slips in and out of the conflicts. If anything, he's reduced to a man with a bank full of questions, always quizzing Priyanka's intent or ridiculing her efforts.
Jha, who had first made a hard-hitting action drama 'Gangaajal' in 2003, fails to inject any real meaning into his second part.
Another classic example of when a sequel fails to match up to its original.
Follow Emirates 24|7 on Google News.