Bollywood review: Ranveer Singh and Arjun Kapoor fail to pack a punch in 'Gunday'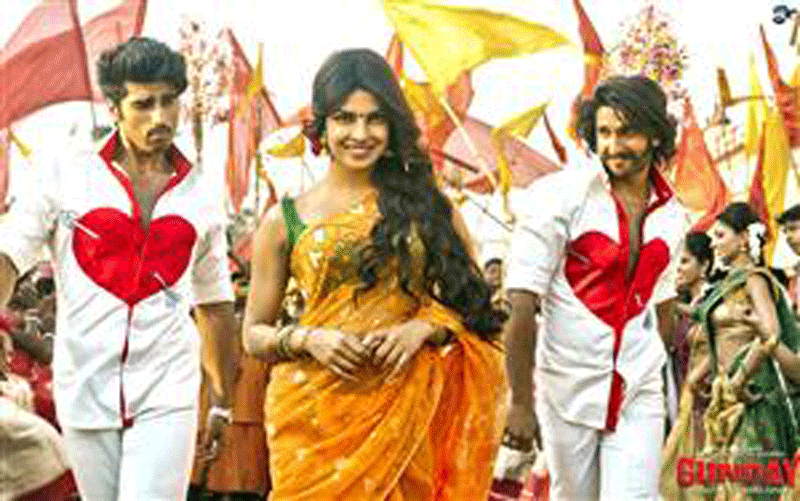 Despite being packed with liberal servings of kitsch and colourful quirks from the flamboyant 70s, three good-looking actors and incredible tunes reminiscent of a glorious past, Ali Abbas Zafar's visual extravaganza 'Gunday' doesn't have enough soul to have us hooked.

While the trailers promised something exemplary, what finally got weaved into a movie isn't worthy of applause.

Ali's screenplay fumbles and falters through the two-hour-and-35-minute long screen time, leaving us thoroughly exhausted.

It's a pity really, considering 'Gunday', at least on the surface, had a lot going for it. For one, Sohail Sen tuned an incredible track that's almost hypnotic.

Even the lead cast of Ranveer Singh and Arjun Kapoor, emerge genuinely earnest and flash their six-abs with enough flourish. They grunt, grin and romance with aplomb but unfortunately their efforts are wasted in a lacklustre movie.

There's even the sizzling Priyanka Chopra, who flutters her eyelashes and flaunts her toned body with immense delight, and the veteran Irrfan Khan, who walks away with the most dignified and lengthy 'guest appearance' on a Bollywood canvas, but neither can save 'Gunday' from doom.

The director (who has also penned the screenplay and dialogues) is unable to cash in on its strengths and elevate 'Gunday' to a much higher, desirable level. Probably, it'd be a lot to ask from a two-movie-old director who earlier made 'Mere Brother Ki Dulhan'.

Ali is evidently about frills and less about substance.

What remains is a clumsy story that's riddled with clichés, and a predictable story that glorifies the struggles of the outlaws, celebrates friendship and exploits love.

'Gunday' unfolds as Bangladesh wins freedom in 1971. Bala and Bikram are orphaned victims of war, who are left torn, shattered and abused.

It's their hunger for a good life that forces them to turn into outlaws. From smuggling guns to stealing and trading coal, they willingly take on anything illegal to make a living. They move to Kolkata and work towards erasing their refugee status.

While Ali hurries through their struggles and their imminent victories, he focuses on their unusual romance as they both try to woo cabaret dancer Nandita.

What starts off as an endearing battle of love, predictably, turns into an ugly war.The once thick buddies turn enemies, bickering over a woman they both want dearly.

A ruthless cop waits and watches the fun, only because he doesn't have any eye-witness or evidence of their crimes.

The waiting game turns incredibly tedious and one that leaves us cheated, especially since Ali is unable to pull out any real surprises at the end.

While Ranveer and Arjun put up a great show of camaraderie, and show off their well-chiselled glossy bodies, and spend much of their screen time running, dancing and tossing their hair, it's the script that they forgot to pay attention to.

Ranveer still emerges fairly unscathed, but Arjun requires a lot more acting lessons to pull off a badly written broody character.

Priyanka appears to have had the most fun and does her music career good by picking a character who sings and dances like a dream. For the rest, she clearly looks distracted.

Although the run-up to 'Gunday', what with foot-tapping music tracks and tightly edited trailers, was promising, the movie didn't quite match our expectations.

Sadly, this one doesn't get our "thumb-print" but our thumbs-down!

Follow Emirates 24|7 on Google News.