Bollywood Review: Shahid Kapoor, Alia Bhatt soar in 'Udta Punjab'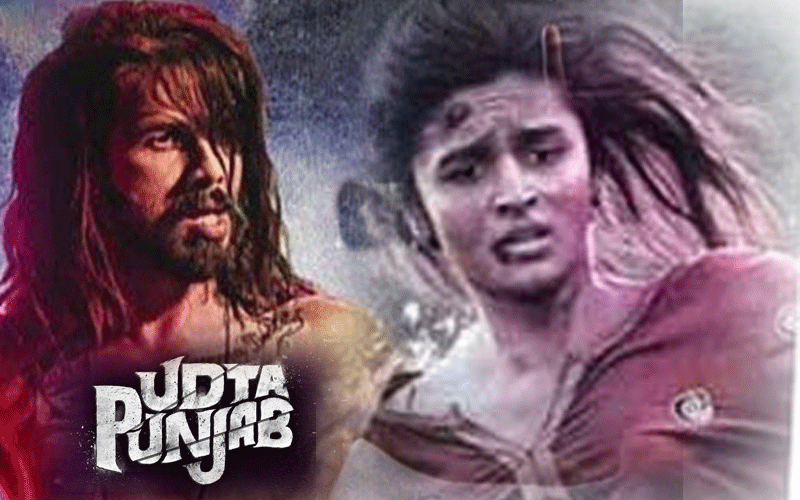 A young boy, face smeared in sweat and lit by the darkness of the night, sits outside a drug rehab home, numbed by the terror he had just unleashed. Wailing inconsolably, and struggling to comprehend what created the monster in him.
It's possibly the most defining moment in 'Udta Punjab'.
His transformation from a charming young lad, gleefully leading a double life behind a pair of odd sunglasses, into someone struggling to control his new self, exposes the world director Abhishek Chaubey sets out to demolish.
His reality is not rooted in Bollywood cliches, and that's where 'Udta Punjab' actually soars.
The Punjabi women are untouched by Bollywood stereotypes and don't ape Kiron Kher or her routine boisterous caricatures. In here, they sit straight-faced, and fearlessly pull out their guns when cornered.
Abhishek unhurriedly pieces together a narrative that explores, and exposes, a state left to bleed by the drug lords, and the politicians.
He's ably guided by cinematographer (and director) Rajeev Ravi, who lets the shadows of the night beautifully capture the rise and fall of its characters. You watch in awe, as he captures a broken "pop star" intently listening to two fans, shaded in the darkness and singing his praises, despite having blood on their hands. There's fear in his eyes, as he suspects his doom is near.
Or, when the singer and a young girl, forced into being a junkie, discover a fondness for each other in the thick of the night, tinted by orange streetlights and hunted by thugs.
Rajeev brilliantly captures the essence of 'Udta Punjab' and elevates it into an experience that'll leave you (unfortunately) disturbed and disgusted.
The makeup and costumes accentuate the performances, allowing the actors to take on lives other than their own without much trouble. It's only Kareena Kapoor Khan, who slips, a few times, despite lending so much integrity and depth to Dr Preet Sahni.
Interestingly, Abhishek uses humour, cleverly to uncover the menace.
While Abhishek sets out to unravel the truth, through the bylanes locked in poverty or those glorified by Range Rovers, his narrative drags (a bit) as the love stories begin to unfold. The romances though incidental, and unusual (sometimes linked by clever camera tricks) dilute the impact slightly.
Much of 'Udta Punjab' rides on its lead actors, with Shahid Kapoor and Alia Bhatt surrendering to their characters' whims and fancies unquestioningly. Shahid, is probably one of the few heroes, who doesn't let his chiselled body do the acting. Instead, his body and his raging locks only empower him to design the madness around the infamous Tommy. You buy into his ostentatious life, and see how he's influenced an entire generation to rap to his vulgar tunes. It's when he chases down producers who "fire him" or when he gleefully talks to his reflection in the pot that you sense what an outstanding artist he is.
Alia is equally impressive, and her botched face and Bihari twang (although out of sync on a few occasions) is brutally honest. Her nameless girl speaks of so much spunk and spirit, despite life handing her a sickle, instead of a hockey stick. She's uninhibited, raw and gusty in her act.
Kareena, too, is remarkable. This could possibly redeem her of all the mediocre performances she's done in the past. And, there's the charming Diljit Dosanjh, who tackles Sartaj Singh and his battles with great finesse.
Despite the minor flaws, 'Udta Punjab' is a movie deserving your time. It explores the highs and the lows with equal flourish.
Follow Emirates 24|7 on Google News.