Bollywood review: Shahid Kapoor attempts to do a Salman Khan, but fails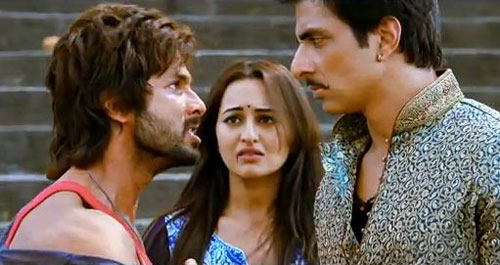 Much like what the trailers had indicated, 'R… Rajkumar' is an incoherent movie that blatantly piggybacks on Salman Khan's 'Dabangg' laurels. But, in an industry that does not object to plagiarism and laps up any form of idiosyncratic action thrills, this latest treat (or trash) from dancer-turned-actor-turned-director Prabhu Dheva loses points for being unimaginatively tacky.

However, if this were a dance show, then the verdict would've been different, with Prabhu and his brawny hero Shahid Kapoor crowned for their killer dance moves and their incredible versatility.

Alas, this is a movie!

And, packing in wacky moves, outlandish costumes and innumerable group dances, just doesn't clear out the glaring goof-ups in the script.

Prabhu also borrows heavily from Salman's 'Dabangg'. From making his hero wear an aviator, to empowering him to literally fly around and thump the baddies with fervor, to picking up a thug's mobile in the midst of a brawl, there are way too many instances that give it a 'Dabangg' flavour.

Even the casting, barring that of Shahid, reminds us of Salman's madcap action drama, wherein Sonakshi Sinha played the eye-lashes-fluttering ladylove and Sonu Sood pumped up his muscles to play the baddie.

Only here, Sonakshi's a bit more daring, as she goes about crashing bottles on people's heads and silencing anyone who stands in her way with her piercing gaze. And, Sonu adds a little more colour to his palate by being cheeky and cute when he isn't spitting fire.

The main drawback of 'R…Rajkumar' is its wobbly plot. The characters appear and disappear at random, and shift loyalties without reason or logic. And, every possible genre – whether comedy, action, drama, romance – finds a part in the plot.

For a first-time storyteller, Prabhu's efforts are exhausting and isn't worthy of an applause.

Writer Shiraz Ahmed relies in mindless rhymes to pack a punch. "Be silent, or I will turn violent," is overused and loses impact.

'R…Rajkumar' introduces us to a battered Romeo, who struggles to stay alive as images of his ladylove flashes in his mind.

We are immediately taken back in time to a tiny village where two loudmouthed rouges – Parmar and Shivraj – are constantly at loggerheads to win over the land's opium trade.

Enter the new-bloke-in-town Romeo. He quickly works his way up the ranks in Shivraj's camp.

The attacks and counter-attacks continue in the first-half, with the clever Romeo leading his boss' team to victory.

He thrashes and punches with relish and only stalls when his feisty 'Lollypop' walks into the scene. The minute she makes an entry, he forgets everything, and pouts his lips and follows her in a trance.

She, on the other hand, remains determined never to give in to her stalker. But, a few songs and a daredevil stunt later, she, much like all Bollywood heroines, melts and falls in love after being pursued.

This would've ended in 'happily ever after' but for Romeo's boss falling head over heels in love with the same 'Lollypop'.

Suddenly, the two warring thugs join forces, mainly because the girl is Parmar's niece, and they invariably turn against Romeo.

The man in love, however, isn't one to take things lying down. He spends endless time on-screen beating an army of thugs, or even getting bruised himself. He refuses to elope with his love, even though she's willing to, only because he wants to do it the right way.

So, he leaves her in her evil uncle's care, and uses the rest of the reel time to win an audacious marriage challenge.

Shahid Kapoor dons the aviators, flexes his muscles, romances Sonakshi, and fights Sonu, but lacks the charm that Salman possesses. Even if we ignore the 'Dabangg' trail, Shahid still doesn't manage to hold fort. He's talented no doubt, but such inane Bollywood dramas don't need skills, just charm and a massive fan following.

Here, Shahid's required only to cringe his eyes, and crinkle his nose for effect.

That said, the only highlight for Shahid, is the large stage Prabhu sets for him to show-off his dancing skills. It's not a first, but it's something that won't go unnoticed.

Sonakshi sticks to her 'Dabangg' tone and rolls her eyes dramatically. Only here, she pays ode to her veteran dad by mouthing 'Khamosh' in his trademark tone.

Sonu's earnest as the menacing Parmar, and balances comedy, romance and action with aplomb. It's a pity he's reduced to a caricature mid-way. The same goes for Ashish Vidyarthi, who is incorrigible as the bad man, but loses the plot half way through.

Clearly, being a great dancer doesn't automatically turn you into a great filmmaker. And, that's precisely why dancing star Prabhu fumbles and falters into making any real impression in 'R…Rajkumar'.

His dance moves, one that he even steps in to do, are mind-blowing, but his movie, unfortunately just doesn't match up.
Follow Emirates 24|7 on Google News.