Review: Partha outshines Amitabh Bachchan in 'Bhoothnath Returns'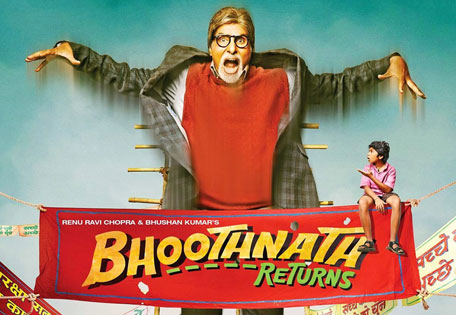 Ever since Vidya Balan mouthed the iconic lines – "Entertainment, Entertainment, Entertainment" – in the 'Dirty Picture', every filmmaker liberally uses it and hopes its magic would rub off on their movie's box-office success as well.

So, when it pops up randomly in 'Bhoothnath Returns', you know the movie isn't banking on originality.

Even references to 'Slumdog Millionaire' because of where the plot unfolds is rather unimaginative, and appears forced.
These are, unfortunately, few of the many setbacks that the sequel displays, despite starting off with much promise, laughter and applause.

An aged ghost, who is low on self-esteem, returns to India to regain his standing in the horror world. His ghostly pals in "ghost land" mock his antics of six years ago, and poke fun at his inability to scare a little kid.

With very little tricks up his sleeve, Bhoothnath attempts a comeback.

Disappointed at his own worthlessness, he sulks and almost gives up the fight, when a spirited street-kid Akhrot preps for a scary fest. He orchestrates a simple act that redeems Bhoothnath's ghostly stature, and in the bargain, wins the little boy a place in the neighbourhood cricket team.

The duo are inseparable from then on, and a fun song later, kick-start a unique business partnership, wherein they evacuate unhappy spirits from haunted buildings for a hefty price from the property developers.

The money is good, and the pair content, until they are asked to help local a goon/politician to revive a plush building project that's troubled by a gang of ghosts.

Bhoothnath and Akhrot are told about the politician's vicious and ordered to step away. They retract, only to irk the political leader.

The enmity increases as Bhoothnath decides to fight the conniving politico in the local elections because the election rulebook doesn't literally exclude dead people from contesting.

While the theme is well-timed, and coincides with the Indian elections, the lack of a tighter edit and logic reduces it to a ghastly mess.

At 160-minutes of screen time, it stops being a fun, endearing story and turns into a classroom lecture on voting rights. There's even a musical lesson on poverty, crime against women, communalism, and much else.

Even though director Nitesh Tiwari picks up from where Vivek Sharma left off in 'Bhoothnath', and stays true to the principle of a sequel unlike many of his contemporaries, he's unable to piece together some incredible scenes, performances and lines and convert it into a good film.

Part of the problem lies in his inability to filter out the unnecessary.

Instead, we are left extremely fatigued by the lengthy monologues towards the second-half, and left unconnected by Bhoothnath's pursuits for an idealistic world.

Nitesh, who had co-directed 'Chillar Party' with Vikas Bhal (who made 'Queen'), shows influences from his debut film with a child, speaking in Mumbai slang, taking centrestage.

Although this strategy works initially, it loses steam as the clock ticks away.

The plot is inconsistent at times, with people who are (technically) unable to see Bhoothnath hold perfect eye-contact with the unseen ghost.

Even a public rally, where Bhoothnath relies on a voice recorder to overcome stage fright, shows another ghost watching the drama unquestioningly.

That said, Nitesh and writer Piyush Gupta must be credited for penning some genuinely fun moments.

"Mosquitoes don't bite you?" asks an endearing Akhrot to Bhoothnath, adding, "But you do take a shower, don't you?"

Even the scene, where Bhoothnath lends the little boy his voice and swagger is outstanding.

In fact, the crooked-toothed Partha is a incredible discovery, lending charm and maturity to little crusader Akhrot. He's impeccable, and holds his own in front of stalwarts like Amitabh Bachchan and Boman Irani. Much like Akhrot, he doesn't appear rattled by pressure, and displays confidence and talent that's rare in Hindi movie ranks.

While senior Bachchan sleepwalks through the part, without having to exploit much of his potential, Boman and a few supporting characters put up their crackling best.

Boman tackles the menacing leader with remarkable finesse, and gives comedy a dignified standing. Even, Sanjai Mishra, who plays Bhoothnath's self-appointed lawyer, leaves us in splits.

"Politicians disappear after they win. But, I'm already invincible," announces Bhoothnath, hoping to win over the voters. For the audience, however, he's rarely invincible.

If Nitesh had blanked out Bhoothnath, and retained his baritone voice instead, at least for majority of the movie, it would've been more effective.

So, what could have been a good movie, turned into something hugely disappointing.
Follow Emirates 24|7 on Google News.