U2 face 'tax dodge' protests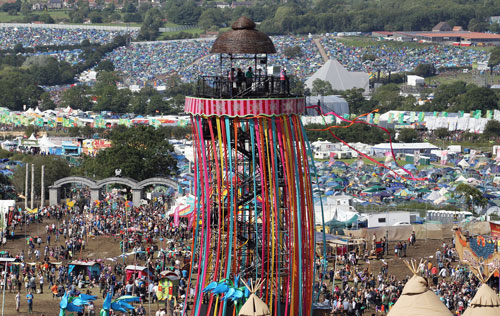 Protesters said they will target the headline set by Irish rockers U2 at Britain's Glastonbury festival on Friday over claims that the band have avoided tax.
The Art Uncut group said they would unveil a giant inflatable banner and placards against U2, whose frontman Bono is more used to receiving plaudits for a crusade to tackle African debt, poverty and disease.
"Bono is well known for his anti-poverty campaigning but Art Uncut is accusing him of hypocrisy," campaigner Charlie Dewar said.
"U2's multimillion-euro tax dodge is depriving the Irish people at a time when they desperately need income to offset the Irish government's savage austerity programme."
The group said U2 had switched their tax affairs from Ireland to the Netherlands to pay less tax following a change in the law in 2006.
Ireland needed a massive international financial bailout last year after falling into heavy debt when a property bubble burst.
U2 -- who were unable to headline Glastonbury last year after Bono was rushed to hospital for emergency back surgery -- were not immediately available for comment.
Around 170,000 revellers are expected this weekend at the dairy farm in Somerset, southwest England, where the world's largest greenfield music and performing arts jamboree is held.
Earnest British rockers Coldplay headline on Saturday night and R&B superstar Beyonce takes the honours on Sunday.
Typically for the British summer, heavy rain has turned the Glastonbury site into a quagmire but sunnier weather is expected at the weekend.
Follow Emirates 24|7 on Google News.