Harrison Ford to reveal 'Star Wars' theme park plans on 'Disneyland 60'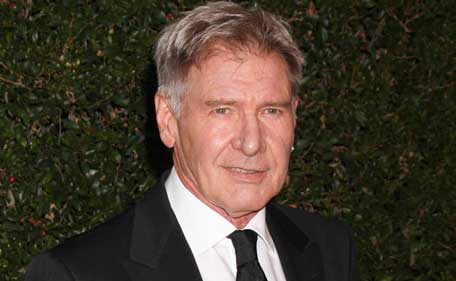 Harrison Ford won't have to venture to a galaxy far, far away for his next 'Star Wars' role - the man behind Han Solo will give fans a first look at the "Star Wars"-themed lands coming to Disneyland and Walt Disney World Resorts as part of ABC's upcoming TV special, 'The Wonderful World of Disney: Disneyland 60.'
Ford will preview the two park expansions during the two-hour Disney special, airing Sunday, February 21 at 8 p.m. on ABC.
Previously announced guests for 'Disneyland 60,' which will be hosted by 'Dancing with the Stars' champ Derek Hough, include Elton John, Josh Gad and Hough's 'DWTS' co-star Witney Carson. Hough and Carson will perform a dance tribute utilizing music from Disney's most popular properties, while John will debut a new song, 'Wonderful Crazy Night,' in addition to performing his Oscar-nominated 'Circle of Life' from 'The Lion King.'
Gad - who voiced Olaf in Disney's animated hit 'Frozen,' and will next be seen in the company's live-action 'Beauty and the Beast' remake as LeFou - will take viewers on a tour of Walt Disney's private apartment and the Disneyland Dream Suite on the special.
The Los Angeles Philharmonic, conducted by music and artistic director Gustavo Dudamel, will join the celebration performing 'The Sorcerer's Apprentice' from Walt Disney's classic animated film 'Fantasia.'
Plans for the 'Star Wars' lands were debuted by Disney CEO Bob Iger during the company's D23 Expo last August.
"We are creating a jaw-dropping new world that represents our largest single-themed land expansion ever," Iger said at the time. "These new lands at Disneyland and Walt Disney World will transport guests to a whole new 'Star Wars' planet."
According to Iger, the expansion will have two signature attractions, including a ride where fans can take the controls of the Millennium Falcon "on a customized secret mission," along with an experience that drops attendees into "a climactic battle between the First Order and the resistance."
'The Wonderful World of Disney: Disneyland 60' is produced by Den of Thieves. Jesse Ignjatovic and Evan Prager serve as executive producers.
Follow Emirates 24|7 on Google News.