Hollywood's women wear red to Oscars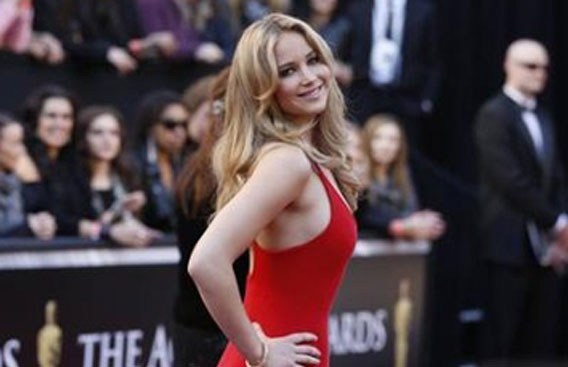 The women of Hollywood returned to razzle dazzle with an array of red, silver and sparkling gowns on the Oscars red carpet on Sunday, in contrast to more somber ensembles in vogue the past few years.
The bright lights turned the tide from more muted and conservative fashions at the Academy Awards of the past few years which reflected with the world's economic woes.
Among the ladies in red were Oscar co-host Anne Hathaway in a Valentino dress with volume in the back, young best-actress nominee Jennifer Lawrence in a minimalist Calvin Klein and Sandra Bullock in a strapless Vera Wang.
Spanish actress Penelope Cruz wore a figure-hugging sparkling red gown after giving birth to her first child a month ago, appearing on the arm of husband and best actor nominee Javier Bardem.
Jennifer Hudson went even brighter, amping up the carpet with a tangerine Versace halter dress.
There were also several shades of purple, like the aubergine Rodarte on a pregnant Natalie Portman, a best actress nominee. Her "Black Swan" co-star Mila Kunis chose a wispy lavender Elie Saab.
Silver seemed to be everywhere, either head to toe or embroidered into the gowns in tiny beads.
Gwyneth Paltrow shone brighter than an Oscar statuette with a modern silver sheath by Calvin Klein, while Hilary Swank wore a silver strapless Gucci with gray feathers at her feet. Halle Berry also went strapless and silver in her Marchesa gown.
Nicole Kidman, nominated for best actress for "Rabbit Hole," wore a white strapless Dior with silver embroidered throughout. Her competitor in that category, Michelle Williams of "Blue Valentine," had sparkle in her pearl gray Chanel.
Amy Adams, nominated for best supporting actress for "The Fighter," chose a tight-fitting midnight blue L'Wren Scott gown punctuated by little silver lights.
As always, there was some black. Helena Bonham Carter, nominated for her supporting role in "The King's Speech" snubbed the fashion world and chose a film costume designer for her black velvet gown.
"It would be nice to celebrate film rather than fashion," said the British actress, who often takes heat from the fashion critics for her eclectic choices.
Partial list of 83rd Annual Academy Award winners announced Sunday:
1. Art Direction: "Alice in Wonderland."
2. Cinematography: "Inception."
3. Supporting Actress: Melissa Leo, "The Fighter."
4. Animated Short Film: "The Lost Thing."
5. Animated Feature Film: "Toy Story 3."
6. Adapted Screenplay: Aaron Sorkin, "The Social Network."
7. Original Screenplay: David Seidler, "The King's Speech."
8. Foreign Language: "In a Better World," Denmark.
9. Supporting Actor: Christian Bale, "The Fighter."
10. Original Score: "The Social Network," Trent Reznor and Atticus Ross.
11. Sound Mixing: "Inception."
12. Sound Editing: "Inception."
Leo takes supporting-actress
Oscar for `Fighter'
Follow Emirates 24|7 on Google News.