Is Salman Khan desperate for an image make-over in 2013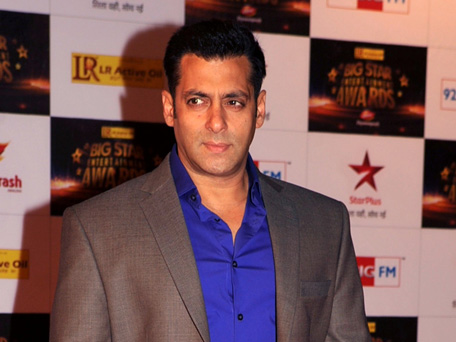 After striking box-office gold, is Salman Khan now looking for critical acclaim? Well, if recent reports are anything to go by, his eagerness to rope in veterans like Naseeruddin Shah and Tabu for his next movie 'Radhe' only reiterates his desire for a makeover.
Known for his lack of versatility in his acting escapades, Salman has always unabashedly admitted to never wanting to step into character.
"I am just going to play Salman Khan," he had pompously announced to movie critic Anupama Chopra's during the promotions of 'Ek Tha Tiger' on the telly show 'The Front Row'.
But that's about to change now.
For his brother Sohail's remake of AR Murugadoss' South Indian flick 'Stalin', Salman is keen on making a marked improvement in his performance. And his desire to cast the two acting legends appears to be a move in that direction.
In a movie that showcases him as a citizen who sets out to change the system, Salman believes that Naseer and Tabu would fit perfectly.
Talking to the Indian media, Sohail had admitted to this casting strategy. "It was at Salman's insistence that Tabu and Naseer were contacted. Salman felt that the supremely talented duo could give the film a touch of class."
Often known for his blunt retorts and uninterested responses to reporters, Salman has recently shown a more refined transformation.
"Earlier he'd mock his co-stars and even the interviewer. It would appear that he was doing the media a favour by appearing on a show, but that has changed now," observers a media professional in Mumbai.
His recent promotional interviews for 'Dabangg2' saw him more relaxed and chatty than he has ever been.
"There's still a clear amount of cheekiness but this time it was all in good taste," added the journalist.

During his hour-long interview with 'Times Now' anchor Arnab Goswami, Salman hinted at being a changed person. "Some times I feel 100 percent right about what I did back then, but today I feel I could've let it go. I had over-reacted to things, I need to chill now. Not for any other reason. You just learn to control yourself... your emotions. You just don't feel it that important to react any more," he confessed.

He also hinted at a revival of his much-loved, romantic hero 'Prem' that was once made iconic by filmmaker Sooraj Bharjatya in 'Maine Pyaar Kiya'. "Prem will make a comeback. Sooraj and I are doing a film together. He's currently working on a script," Salman revealed on that show.
In an industry known to be divided, and ruled by the two warring Khans – Shah Rukh and Salman, the beefy actor recently claimed there was "no groupism" in the film industry.
"If anyone comes to talk or meet me, I will talk to them or meet them nicely. I don't care who is whose friend and all. It doesn't matter to me at all," he emphasized in the Indian media.
Even his latest war of words with 'Bigg Boss 6' contestant Imam Siddique to support his arch rival Shah Rukh Khan proves that Salman is ready to let bygones be bygones.
"Shah Rukh is in the industry because of his hard work and support of his fans... not because Imam cast him in an advertisement," he had asserted on the TV show.
Looking at all these cues, it does appear that Salman is gearing for a change.
MUST READ:
Aishwarya Rai, Rani, Vidya, Sridevi, Deepika: Who wears Sabyashachi best?
BIGG BOSS 6 Final Countdown: 4 to go... Rajev makes Delnaaz cry
Inseparable couples: Aishwarya, Abhishek or Aamir, Kiran
Follow Emirates 24|7 on Google News.