Jude Law among panel judging Arab Film Studio final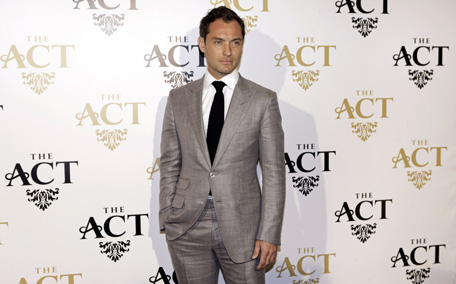 A broad mix of judges, including Hollywood actor Jude Law, are currently deliberating over the shortlisted six submissions in Image Nation's short film competition, Arab Film Studio.

Focusing on all aspects of film and cinematography, the judges will have the final decision on seven awards, including Best Film, which includes a 50,000 AED prize fund the creation of the winner's film.

The judging panel is made up of 20 acclaimed film industry professionals including David Frankel, the director of the Oscar nominated 'The Devil Wears Prada', and Emirati film director Nawaf Al-Janahi. The panel also includes chairman and CEO of Hyde Park Entrainment Ashok Amritraj and esteemed film producer Walter Parkes.
Michael Garin, CEO of Image Nation, said: "We are honored to have such an esteemed judging panel presiding over this competition as it continues to grow. They're going to have a difficult time selecting the winner as I have been overwhelmed at the level of competition and the quality of the productions."
Michael added: "It's been great to see submissions from all over the region."

Arab Film Studio, which was established in 2011 in partnership with Image Nation and twofour54, is a short film competition aims to discover unearthed talent and to give aspiring filmmakers the tools to carve out a career for themselves.
The finalists of this year's Arab Film Studio competition include short film entries from a wide mix of countries - the UAE, Egypt, Oman, Algeria, Syria and USA.

An award ceremony will be held on July 1st at the Yas Viceroy Hotel in Abu Dhabi where each of the final six submissions will be screened and awards presented.

This year's finalists:

1. Mr. Ideas – Belal Anteple (Syria)
2. In Her Eyes – Sara Saber (Egypt)
3. A Heated Interview – Muneer Al Busaidi (Oman)
4. Smoke – Mohamed Islem Cherchali (Algeria)
5. Longing – Allegra Hamilton (USA)
6. Recycled – Saleh Al Shunnar (UAE)
Follow Emirates 24|7 on Google News.