Justin Bieber to be prosecuted? Runs to Selena Gomez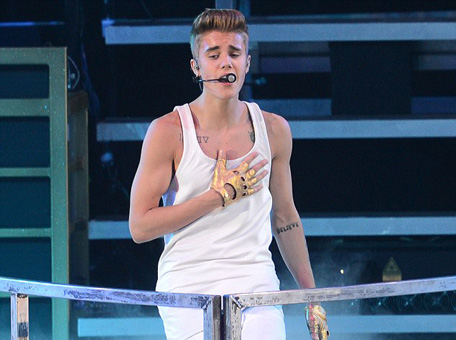 The Los Angeles County Sheriff's Department is allegedly set to recommend that Justin Bieber be prosecuted for spitting on his neighbour.
The 'Beauty and a Beat' singer is being investigated for battery following a heated verbal argument outside his home in Calabasas, California and the Los Angeles County Sheriff's Department is reportedly preparing to recommend that criminal charges be filed against the 19-year-old singer.
Law enforcement sources told gossip website TMZ.com that the investigators will refer the case to the LA County District Attorney for review once their report is complete and will recommend that charges be filed against Justin, who denies spitting on his 47-year-old neighbour or threatening to kill him after he was confronted about "reckless driving" in his Ferrari on their street.
The insiders also revealed that they believe Justin's recent behaviour is beginning to show a pattern of disregard for the law and are concerned that he is on a "dangerous path", which could see small incidents escalate to more serious criminal activity if they are not dealt with.
The sources also believe that the Canadian pop star needs professional help to manage his anger and attitude.
Sources close to Justin - who could also be facing a penalty for illegally sneaking his new pet monkey Mally into Berlin, Germany that was immediately seized by customs - previously insisted the confrontation with his unidentified neighbour never became physical and he never made threats of violence towards the man.
As trouble mounts around Bieber, he finds solace in one person - ex-girlfriend Selena Gomez.
He paid her a quick visit on Wednesday afternoon to Gomez.
Justin's chauffeur-driven party van was spotted parked behind the gates of Selena's driveway for more than an hour. The exes reportedly left her home separately.
Selena's home isn't too far from Bieber's Calabasas house ... where Justin allegedly spit on his neighbour.
Hmm ... wonder what Justin and Selena talked about?
Follow Emirates 24|7 on Google News.