Katrina Kaif, Ranbir's mysterious relationship revealed in many ways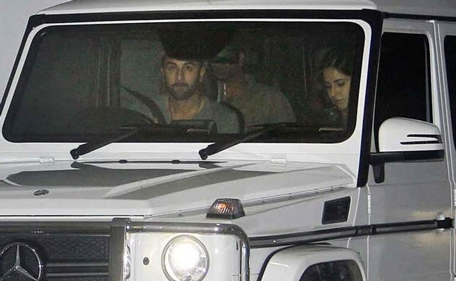 After being media shy about their love affair Bollywood couple Ranbir Kapoor and Katrina Kaif are now painting the town red.
Statements are being made that gives clear indication of a steady relationship between the two.
There was a time when Katrina would take offence when asked about Ranbir. But perhaps the 'bikini bomb' during their Ibiza holiday broke the ice for good.
Their 'affair' is now all out in the open and the two are inseparable.
In a recent interview, Katrina Kaif finally admitted that Ranbir Kapoor is "an extremely important person in my life." This admission cleared what we all knew for long but feigned ignorance of.
Though the super sensitive, cautious couple has been discreet about their relationship, they let out the secret number of times.
- When filmmaker Karan Johar threw a party Ranbir and Katrina arrived in the same car. For the first time Katrina was not running for the covers (though seemed uncomfortable in the luxury car).
- In a candid interview to Times of India, Ranbir said, "I am attached to a few people in my life and I can give my life for them."
The star mentioned his parents, his dear friend (director) Ayan Mukerji, Rohit Dhawan, Aisha Divetri (his school friend) and Katrina Kaif - there he said it!
- The couple had been lying through their teeth about their relationship but thanks to the leaked bikini pictures of the two holidaying in Ibiza - the world saw it.
Ibiza is their most talked-about holiday till date.
- Katrina was clicked visiting Ranbir in Sri Lanka when he was busy shooting for 'Bombay Velvet'.
- The two were also photographed celebrating New Year's Eve in New York.
- When Ranbir and Katrina appeared together at the 2013 Diwali bash hosted by Amitabh Bachchan, which was attended by many prominent Bollywood stars, it was loud and clear.
Ranbir and Katrina arrived in the same car, but entered separately (the drama we must say).
- One particular picture that reached social media and did all the talking was that of Ranbir and Katrina dinning with their mothers - a sort of family dinner we say.
It seems the stars wanted their mommies to bond before the big step.
- During Karan Johar's talk show 'Koffee With Karan' Ranbir's cousin Kareena Kapoor revealed more than he wanted her to.
"Are you in love with Katrina?" cousin Kareena asked Ranbir on Koffee With Karan. "I love Kareena," he replied shyly. To which the cousin responded - "Just add a T to it."
And there was more. When asked to pick a partner for a gay encounter at gunpoint, Kareena's reply gave away the truth. "I'd be more comfortable with my sister-in-law so I'll say Katrina Kaif," she said.
Follow Emirates 24|7 on Google News.