Kim Kardashian has been "annoying" billionaire businessman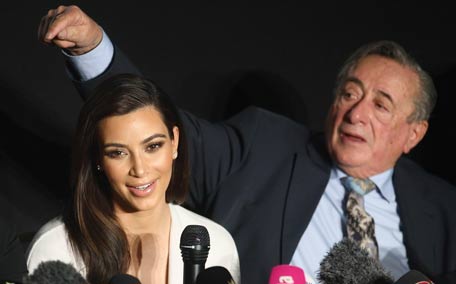 Kim Kardashian has been "annoying" her date to the Vienna Opera Ball.

Billionaire businessman Richard Lugner annually pays a huge amount for a beautiful lady to accompany him to the ball, but despite forking out a reported $500,000 for Kim to be his date on Thursday she is not keeping up with his agreed schedule.
Kim Kardashian watches the Opera Ball in Vienna. (REUTERS)

Richard, 81, told reporters: "Kim is annoying me. Because she's not sticking to the programme."

Kim, 33, and her mother, Kris Jenner, stood Richard up by going to a Schnitzel restaurant to film for their reality TV show 'Keeping Up With The Kardashians' shortly after arriving in the European city, leaving him upset.

He added: "She's filming and so she doesn't want to have me around. The guest should be with me and not anywhere else that is not agreed upon."
Kim Kardashian and her host Viennese millionaire mall developer Richard Lugner attend a news conference ahead of the Opera Ball in Vienna. (REUTERS)

Kim has also swapped around plans for her to dance with the shopping mall owner at the ball at 11:45pm this evening, with Kris instead taking her place.

According to RadarOnline.com, Kim told reporters: "I'd rather watch the dancing."

Richard claimed he had prepared for the ball by getting 15 shots of Botox, saying: "What's good for [Kim] is good for me too."
Kim Kardashian and Richard Lugner (REUTERS)

The wealthy businessman has taken different women to the ball every year since 1991 including Pamela Anderson, Carmen Electra, Geri Halliwell, Dita Von Teese, Paris Hilton and Grace Jones.
Kim Kardashian (REUTERS)

In 2010 Lindsay Lohan was booked to be his date, but missed her flight, leaving singer Dieter Bohlen to step in and take her place.
Follow Emirates 24|7 on Google News.