Kylie Minogue's ex-fiancé gets dumped days before wedding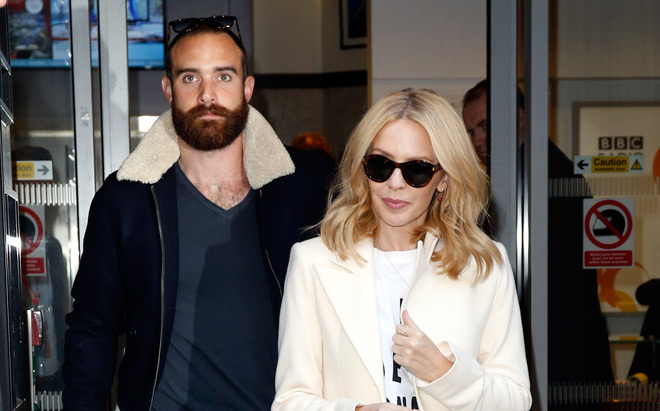 Kylie Minogue's ex-fiancé Joshua Sasse was set to marry his partner Harriet Colling this weekend but she's called off the wedding at the last minute.
The 30-year-old actor was set to tie the knot with Harriet Colling in a secret ceremony at St Lawrence's Church in Ludlow, Shropshire, this weekend, but the 29-year-old aspiring actress has decided to call a halt to the nuptials at the last minute.
A source told The Sun newspaper: "Harriet decided she couldn't go through with marrying Joshua - they weren't right for each other.
"They started dating shortly after his split with Kylie and at first they were smitten. But he changed over time and she felt he was isolating her from her family.
"Her family and friends are over the moon - no one liked Joshua. They think she can do much better than him. People have forked out for hotels and for flights for this but all anyone wants is for Harriet to be happy."
Since getting together last year, the pair have kept their relationship out of the public eye and have refused to attend any showbiz events together as an official item.
The now-former couple began dating just weeks after Kylie called time on her relationship with the 'Rogue' star in February last year because she was convinced he was getting close with an actress - who she reportedly believed was Marta ­Milans.
The 49-year-old singer - who is 20 years younger than Joshua - struck up a relationship with the hunk in 2015 and just six months later they got engaged.
Speaking after their separation, Kylie said: "Making this album was a kind of saviour. The end of 2016 was not a good time for me. So when I started working on the album in 2017 it was, in many ways, a great escape. I was quite fragile when I started work on it but being able to express myself in the studio made quick work of regaining my sense of self - writing about various aspects of my life, the highs and lows, with a real sense of knowing and of truth. And irony. And joy. If there's one love that will always be there for you, it's music. Well, it is for me, anyway."
Follow Emirates 24|7 on Google News.