Lara's return to Bollywood turns heat on 'Quantico' Priyanka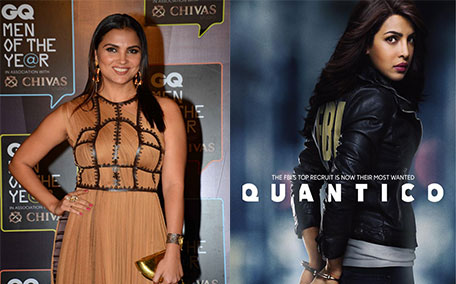 Competition never ends.
If Sushmita Sen won the bigger title in Miss India pipping Aishwarya to the post, Lara Dutta followed suit beating Priyanka.
Despite winning the Miss Universe titles, both Sush and Lara didn't do as well in films as the women they beat.
And as Ash makes a comeback with 'Jazbaa', Sush entered TV as a judge on a comedy show.
And now as Priyanka has made her international debut with the highly publicised 'Quantico', Lara makes a comeback to films with not just 'Singh is Bliing', but two other films as well – 'Fitoor' and 'Azhar'.
It started with a call from Akshay Kumar to Lara on February 13 this year. "I picked up the phone and said, you cannot be my Valentine, you are too late. Akshay laughed and asked me if I was "breeding children!"
"He asked me to be a part of 'Singh is Bliing' and I agreed because I liked the character he narrated to me. The ro0le offered to me was that of a girl who is quirky, funny and crazy. I agreed instantly," says Lara who had made her debut with Akshay Kumar in the film 'Andaaz' along with Priyanka Chopra.
Apart from 'Andaaz', Lara has worked with Akshay earlier in popular films like 'Khakee', 'Bhaagam Bhaag', 'Housefull'. There were also few others which failed miserably 'Jumbo' , 'Aan', 'Insaan', 'Dosti', 'Chalo Dilli' and 'Blue'.
"Working with him is almost like working with family. He is a bundle of energy all the while. He is pretty cool and you do not feel like you have come to work when you act with him," says Lara.
Lara is cool not playing the lead anymore. "I play a character called Emily in 'Singh is Bliing'. It is not the lead. Amy plays the lead, but I am cool with these roles. I am doing a film called 'Fitoor' because I got a call from an old friend Gattu (Abhishek Kapoor). He said he had a ten day role for me in 'Fitoor'. I did it. I also got an offer to play a lawyer which is a fictional character in the film 'Azhar'. I like the role because it is very impactful," says Lara.
Follow Emirates 24|7 on Google News.