Meet KBG84: Japan's sensational girl band with average age 84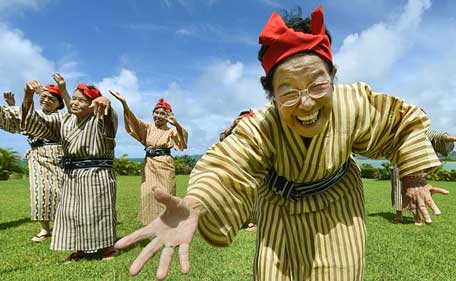 They joke about knocking on heaven's door, but a Japanese 'girl band' with an average age of 84 have struck a blow for grannies everywhere by becoming pop idols.
Hailing from the remote, coral-fringed island of Kohama in Okinawa, KBG84 – a play on the name of saccharine teeny boppers AKB48 – admit to being slightly bemused by their success after cutting their first disc and completing a sell-out Japan tour.
In this picture taken on June 22, 2015, an elderly women troupe of singers and dancers from Kohama Island in Okinawa wearing traditional local costumes perform at a herb garden on Kohama Island, Okinawa Prefecture. They joke about knocking on heaven's door, but a Japanese 'girl band' named KBG84, with an average age of 84 have struck a blow for grannies everywhere by becoming pop idols. AFP/Getty images
"When I first heard someone call us 'idols' I thought an idol meant someone who had lived a long life and was at the gates of heaven," pint-sized diva Tomi Menaka, 92, told AFP in a herb garden overlooking Kohama's turquoise sea.
"But in Tokyo they told me it was an entertainer – which was a relief because I thought it meant I was on my way to heaven," she added, picking up steam as her fellow group members collapsed in fits of giggles. "I hadn't even been to Tokyo or Osaka. I wanted to go there before I went to heaven."
The 33-strong troupe of singers and dancers has released a single called "Come on and Dance, Kohama Island", with a heart-warming video shot on the tiny honeymoon isle, which has a population of just 600 and lies a mere 150 miles (240 kms) off Taiwan.
AFP
Normally hunched over a walking stick, Menaka tosses her cane aside like a bona fide rock star when she's on stage, dancing with joyous abandon to the pling-plang of traditional Okinawan string music given a Tokyo-style pop makeover.
"I've never been as happy as I am when we perform," she said, wearing a stripy kimono and flame-red headscarf, her gold teeth glistening in the midday sun.
"Going to Tokyo for the first time, I thought I was so lucky to be born. I got to meet my grandchildren. I'll never forget it. I was moved to tears."
AFP
Okinawan islanders have one of the highest life expectancies in the world, their diet containing more vegetables and less sugar than that of mainland Japanese, the staple food the purple-fleshed local sweet potato rather than rice.
Menaka, a queen bee of the group, which has a minimum age requirement of 80, stays fit by doing housework. But she is not particularly fussy about her diet.
"I like meat and sweet things," she cackled, flanked by the group's eldest member, 97-year-old Haru Yamashiro, who shook her head disapprovingly.
"I look after my health by cleaning my home, wiping the floors, steaming rice. I stay in the shade when it's too hot. I don't want to tan. I have to take care of my skin – I'm still young at heart!"
AFP
While they tweak the nose of old age with their indefatigable girl power, backstage at a KBG84 gig is a far cry from Glastonbury – walking frames block entrances, and blood pressure monitors and defibrillators are close at hand.
The brainchild of Kyushu-born musician Kikuo Tsuchida, who has lived on Kohama for over 20 years, the rambunctious seniors recently signed a record deal and have been followed by Japanese documentary crews as they play to audiences, generally from middle-age upwards.
"We felt like stars in Tokyo," said 86-year-old Hideko Kedamori. "Everyone in the audience had a big smile, which gave us the energy to sing our hearts out. We're blessed to have been born in Kohama. Our lyrics are about the island and nature – whales in the sea spouting or dolphins doing somersaults."
Life in paradise has barely changed for the geriatric pop queens, who still enjoy long chats over a cup of tea and compare themselves to musketeers.
"We still sit around gossiping about life," said Kedamori. "If we fight, we quickly make up again, just like when we were kids. We are all together with the same heart. All for one and one for all."
The diminutive Menaka, as usual, has the final word.
"I want to go back to Tokyo with the grannies and see my grandchildren before I go to heaven," she said with a toothy grin.
As her colleagues rolled their eyes and warned it would be impossible to stop her once in full flow, Menaka smiled and stared wistfully out to sea, before adding: "That would be just grand."
Follow Emirates 24|7 on Google News.