Next Playboy has "runaway bride" sticker on cover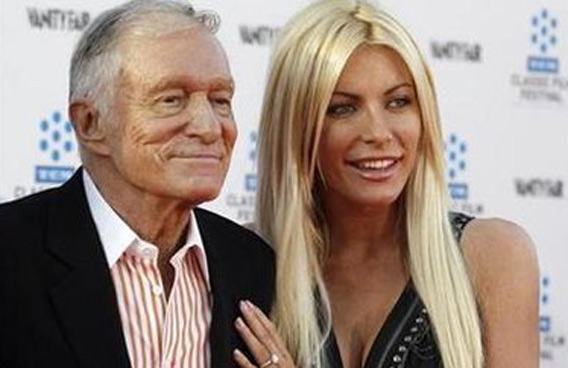 Playboy founder Hugh Hefner, dumped by his fiancee days before their wedding, said Wednesday he is affixing "Runaway Bride" stickers over her picture on the cover of the magazine's upcoming issue.
Hefner, 85, announced a day earlier that 25-year-old Crystal Harris had "a change of heart," and that Saturday's wedding ceremony for 300 people at the Playboy Mansion in Los Angeles had been canceled.
In an unfortunate coincidence, Harris appears on the cover of the July Playboy issue, hitting newsstands Friday, described as "America's Princess ... Introducing Mrs. Crystal Hefner."
In the interests of journalistic accuracy, Hefner has moved quickly to remedy the situation.
"Recent events call for a special sticker on the July cover. Look for it on newsstands," Hefner said on Twitter.
A big red sticker announcing "Runaway Bride In This Issue!" covers most of Harris' bottom half.
Still visible is Hefner's beloved cocker spaniel, which Harris took with her after the split. She is wearing his trademark sailor's cap and smoking jacket, and holding a pipe.
A spokeswoman said the sticker would appear only on newsstand copies since issues have already been mailed to subscribers.
It was not clear why the couple split, although Hefner said there were no arguments. TMZ reported that Harris wanted a bigger weekly allowance and a career in the music business. Coincidentally she released a song, "Club Queen," through iTunes Tuesday.
A two-hour TV special featuring wedding highlights was due to air July 13 on the women's cable channel Lifetime. That has now been canceled.
The marriage would have been Hefner's third. He said his second wife, former Playmate Kimberley Conrad, and her mother were among the friends who consoled him in recent days.
Hefner, known around the world by his nickname Hef, has championed sexual freedom and civil rights, published stories challenging McCarthyism and the Vietnam War, and backed gay causes and the legalization of marijuana.
Raised in San Diego by British parents, Harris met Hefner at his annual Halloween party in 2008. She moved into the mansion after a few weeks and became Playboy's Playmate of the Month in December 2009.
Follow Emirates 24|7 on Google News.