Paris Jackson splits from boyfriend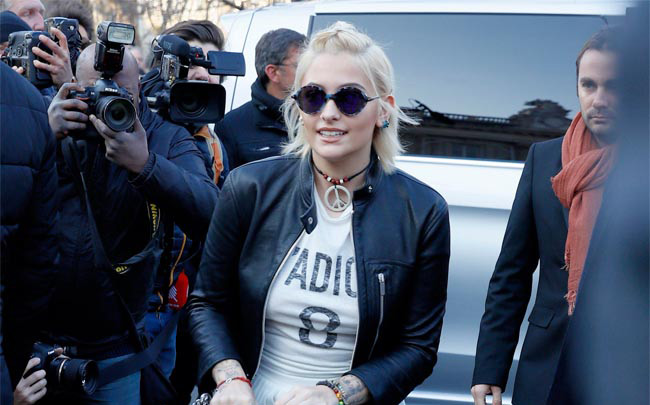 Paris Jackson has split from her boyfriend Michael Snody, reportedly so she can focus on her new role in 'Star'.
The 18-year-old actress - who is the daughter of the late Michael Jackson - has ended her romance with Michael Snoddy after almost a year of dating in order to focus on her role in Lee Daniels' new TV show 'Star'.
A source said: "Paris ended things with Michael...
"She is doing well, enjoying being on set with Lee Daniels and focusing her energy on the opportunities ahead."
However, the insider admits they wouldn't be surprised if the former couple - who recently enjoyed a romantic break in Paris, France - get back together in the future.
The source told Us Weekly magazine: "It appears that Paris and Michael have parted ways for now, but their future is uncertain...
"It might just be a temporary fix until she finds her way back to Michael again."
While Paris hasn't confirmed the split, she made reference to how difficult it is to love a "selfish" person on Twitter.
She posted: "loving a selfish person, whether a friend or more than a friend, is a tremendously heartbreaking thing to do to yourself.(sic)"
Paris recently gave an explosive interview to Rolling Stone magazine in which she spoke of her belief her famous father, who died of acute Propofol intoxication in June 2009, was murdered.
She said: "It's obvious.
"All arrows point to that. It sounds like a total conspiracy theory and it sounds like bulls**t, but all real fans and everybody in the family knows it. It was a set-up. it was bulls**t."
The blonde beauty vowed to seek revenge and find "justice" for Michael, but she is not ready to disclose her plans just yet.
She added: "Of course [I want justice].
"I definitely do, but it's a chess game. And I am trying to play the chess game the right way.
"And that's all I can say about that right now."
The 'Bad' hitmaker's personal physician, Dr. Conrad Murray, was previously convicted of the involuntary manslaughter of the singer after administering the fatal dose of medication.
Follow Emirates 24|7 on Google News.