Partying Prince: Harry back in London & having fun all night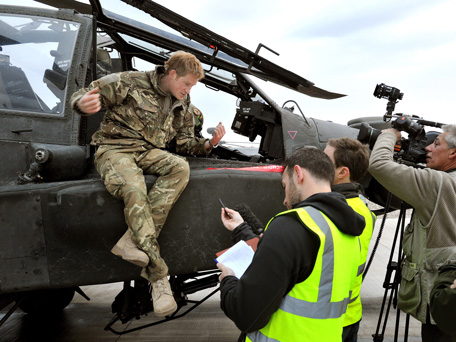 Prince Harry enjoyed his freedom after returning home from a second tour of duty in Afghanistan, partying the night away in a friend's home on Saturday evening (26.01.13).
Harry partied all night just days after returning home from Afghanistan.
The 28-year-old royal - who returned to England following a four-month tour of duty in the war-torn country last week - partied with friends well into the night on Saturday (26.01.13) and didn't emerge from a friend's home until Sunday morning (27.01.13), according to the Daily Mirror newspaper.
The prince, who would have been imposed with a no-alcohol policy during his 20-week deployment to Camp Bastion in the Helmand province of Afghanistan, spent Saturday evening with a group of close friends including Tom van Straubenzee and ex-girlfriend Natalie Pinkham in a friend's home in Fulham, south west London.
Harry left the house at 10.30am the next morning and was escorted home by royal protection officers, who had waited outside while he partied the night away.
Prior to the house party, the prince surprised shoppers when he popped into a local Sainsbury's supermarket for some supplies.
An onlooker told The Sun newspaper: "He seems determined to carry on where he left off."
Harry is currently on a one-month break from army duties. He is then expected to report to Wattisham airfield in Suffolk where he will train to be promoted from co-pilot to pilot.
Follow Emirates 24|7 on Google News.