'Quantico': Sunday date with international star Priyanka Chopra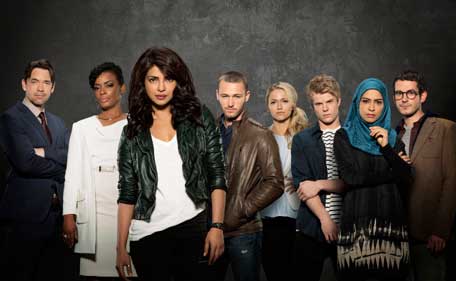 A diverse group of recruits have arrived at the FBI Quantico Base for training. They are the best, the brightest and the most vetted, so it seems impossible that one of them is suspected of masterminding the biggest attack on New York City since 9/11.
Josh Safran wrote the pilot script and exec produces with Mark Gordon and Nick Pepper.
The impressive cast, lead by Indian actress Priyanka Chopra, can smolder with the best of them.
The pilot episode alone features suicide, domestic violence and a terrorist attack — looks like a lot of fun.
American TV series is all set to air on September 27. However, the FBI drama is receiving a lot of accolades already.
American magazines Variety, Zimbio, and E! magazines have given Priyanka and 'Quantico' a thumbs up! Here are the comments:
Priyanka Chopra. (Supplied)
MTV
'Quantico' is the kind of show that drops a bomb every seven minutes. When you think it's going to zig, it zags — and that's just the way we like our drama. One twist in particular will have your jaw on the floor. Trust us: it's that good. The twists and turns, combined with the steamy hookups that are bound to happen at FBI camp, are what makes 'Quantico' such a fun, soapy ride from start to finish. In other words, clear your Sunday nights.
Oh, and did we mention Priyanka Chopra has the most stunning face in existence? If you like to watch pretty people on TV, look no further than 'Quantico.'
Variety
The magazine used Digital Audience Ratings (DAR) technology to measure what entertainment content is resonating most across Facebook, Google+, Instagram, Tumblr, YouTube and Wikipedia combined. Quantico won the 10th spot in this very interesting list.
ABC's fall programs made it to this week's Broadcast leaderboard, with "Grey's Anatomy" resurfacing as the fifth most engaging program, followed by new series "The Muppets" and "Quantico" at eighth and 10th, respectively.
E!
Jean Bentley: I love a good whodunit and I loooove spy stuff, so trying to figure out which spy, uh, dunit will be immensely satisfying. Plus, sexy spied doing sexy things with one another is kind of like the Grey's anatomy/Homeland fanfiction I didn't know I wanted to read until just now. BONUS: Priyanka Chopra might be the actual most beautiful human being currently walking the Earth.
Zimbio
Priyanka Chopra is a Standout & #Quantico is the most Unforgettable show that everyone will be talking about!
Cast: Priyanka Chopra as Alex, Dougray Scott as Liam, Jake McLaughlin as Ryan, Aunjanue Ellis as Miranda, Yasmine Al Massri as Nimah, Johanna Braddy as Shelby, Tate Ellington as Simon Asher and Graham Rogers as Caleb Haas.
Follow Emirates 24|7 on Google News.