Salman Khan and Aamir prepare a lesson for Shah Rukh Khan?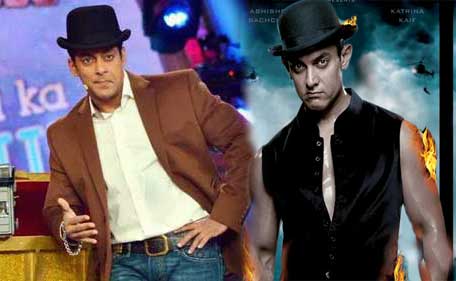 During an Indian chat show, 'Koffee With Karan', Bollywood actor Aamir Khan revealed his bad experience of working with co-actor Salman Khan in 'Andaz Apna Apna'.

They didn't really hit the right note then, but now Aamir and Salman have become best of friends.

They have bonded over the years and pledge unconditional support to each other.

Even though Aamir stayed away from television channel promotional gig, Salman through his reality show 'Bigg Boss 7' is bombarding audience with off tune "Doom macheley" chorus.

The 'Dabangg' star had gone out of his way to wear the 'Dhoom:3' trademark bowler hat on his reality show in a rare display of support for another superstar's release.
Salman continued wearing it and was promoting the film on his own even without the star cast.

Now the tables have turned and Aamir is returning the favours.
Aamir is willing to promote Salman's movie but in an earlier interview said Salman is such a big star that he won't need any help.

Nevertheless, Aamir took help of Twitter to promote Salman starrer 'Jai Ho'.
The actor wrote, "12 days to go…'Jai Ho'!".
It is heartwarming to see two superstars of Bollywood promoting each other's movie without worrying about the possible Box Office explosion.
This act reflects the true friendship between Salman and Aamir Khan.

It is also the first time a superstar of Salman and Aamir's stature is promoting each other's film with such earnestness.

Like Aamir, actor Shah Rukh Khan did not come to promote his movie 'Ra.One' or 'Jab Tak Hai Jaan' on Bigg Boss and Salman didn't bother to mention it on his show.

SRK has promoted both his movie rigorously on every possible platform but did not step in the sets of the reality show.

This shows how once upon a time best friends Salman and Shah Rukh have drifted apart. They cannot breathe the same air forget about promoting movies.

Though big stars do promote and encourage other films but most of the times they help launch a newbie or a friend with lesser box office appeal.
Recently we saw another example of how an actor's failure is often celebrated by his rivals.
Hrithik Roshan darted off clarification stating how the industry is taking potshots at him and his father (Rakesh Roshan), apart from unduly criticising the business of their film, 'Krrish 3'.
The industry is agog with reports of two stars boasting about their films' box-office collections, which they say outnumbers that of 'Krissh 3'.
With film publicity now being turned into a numbers game, it's clear that they don't want to be left behind.
In this scenario of cut-throat competition it is refreshing to see Salman and Aamir share such good rapport without going to town about their friendship.
Follow Emirates 24|7 on Google News.