Shabana to headline Dubai theatre fest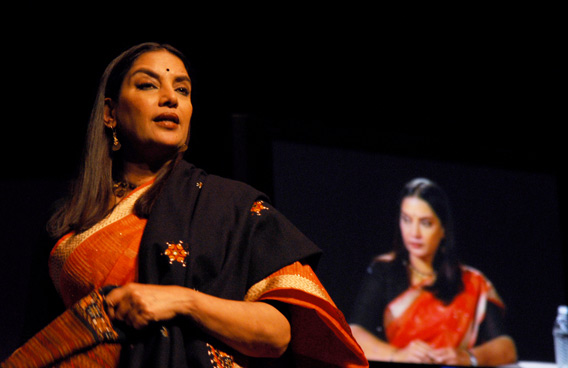 Seasonal boredom may take a while to set in as two theatrical extravaganzas aim to bring a cool breeze of entertainment to our sunny shores this July.
The highlight of, what is being termed as the Summer Bollywood Theatre Festival 2011 is National Award winning Indian actor, Shabana Azmi, who will star in the English play, "Broken Images," a psychological thriller that will be staged at The First Group Theatre, Madinat Jumeirah on July 29.
A week earlier, the king of situational comedy, Paritosh Painter, will present yet another slapstick play in Dubai, with "Get Ride of My Wife", which will be staged on July 22, at the same venue.
Speaking to Emirates 24|7, organiser Naresh Oberoi of OME Events said: "The early sales of both the shows have been phenomenal, with almost 60 per cent of the auditorium already selling out before any media or advertising campaigns kicking off.
"It is a myth that Dubai empties out over the summer period, barring organisers to hold major events here. The clientele we are aiming at, the upper elite and the hardcore theatre enthusiasts, are still very much in town and ready to be entertained with some top class acts."
Both the shows will be performed twice on the same day, with Oberoi stating that looking at the advanced sales, he wishes had been able to stretch the performances over two days.
Painter's "Get Rid of My Wife" is a two-act comedy in English, chronicling the tale of three friends: one blind, one deaf and one dumb. The trio live together with their handicaps and use their physical challenges to the advantage of fobbing off creditors who keep knocking on their door.
However, a soft hearted goon, who is hired to recover the debts, falls for their sob story and decides to help them by offering a job to kidnap a rich industrialist's wife. The rollercoaster ride that follows forms the crux of the play.
Calling all thrill seekers
"A comedy is for every season, be it in film or in movies; and we are quite confident that Paritosh's play will prove a hit with audiences here," continued Oberoi.
"It will be interesting, though, to see how a psychological thriller appeals. We know there is a special segment that will find it interesting but we are also aware that even without the mass appeal of this genre here, Shabana Azmi will be a top draw as her name should be enough to entice even the most curious, along with that of the two other theatre legends, director Alyque Padamsee and writer Girish Karnad," he added.
Having its Middle East premiere in Dubai after an extensive tour of the United States last year, "Broken Images" is a dramatic tale of Manjula Sharma (Azmi), who has not tasted success as a Hindi short-story writer. However, her fortunes change when she pens a book in English and it becomes an instant bestseller.
The question haunting Manjula now is, whether, in opting for the global audience, has she betrayed her own language and identity?
Now, without warning, it's her own "image", which decides to play confessor, psychologist and inquisitor.
Confused? Well, Oberoi states that there will be two of her on stage, "a Shabana versus Shabana so to speak. To know more, you have to watch this show, which will utilise state-of-the-art technology."
For those not in the know, Azmi has won the Indian National Award for Best Actress five times, including three times in a row from 1983-85 for the films "Arth", "Khandar" and "Paar".
Amongst her other trophies, there are three Filmfare Awards for Best Actress and the Filmfare Lifetime Achievement Award in 2005.
Stage credits include productions of Harold Pinter's "Betrayal for Singapore" for Repertory Theatre, Tanika Gupta's "The Waiting Room" for The National Theatre London, and "Tumhari Amrita", the Urdu adaptation of AR Gurney's "Love Letters", which has been staged in Dubai several times due to popular demand.
Tickets for the 6pm and the 9.45pm shows of "Get Rid of My Wife" range from Dh150 to Dh500. Meanwhile, tickets for "Broken Images" range between Dh200 and Dh1,000 for both, the 7pm and the 9.45pm shows. For details, call: 050 626 0593
Follow Emirates 24|7 on Google News.