Shah Rukh, Gauri's united front, Priyanka can go take a walk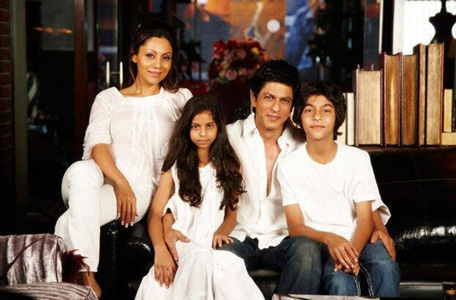 Speculation be damned. When it comes to Bollywood superstar Shah Rukh Khan, his wife Gauri Khan is still the boss.
And when it comes to his kids, SRK is the doting father.
We came across this photograph of Shah Rukh Khan and his family, which was shot for the April 2013 issue of Hello Magazine. Gauri, Suhana, Shah Rukh Khan and Aryan - all look fabulous and most importantly united as they smile for the camera dressed in white.
This close-knit family surely knows how to stay happy and pose for the camera.
Shah Rukh looks completely smitten by Gauri on the cover of the magazine and seems to be craving for his wife's attention.
The cover page is a borrowed picture from desinger duo Abu Jani Sandeep Khosla's photoshoot for their book 'India Fantastique'.
Mrs Khan is no less than a diva herself and can give the industry girls a run for their money.
Madam prim-and-proper, not a curl out of place; Gauri looked to kill in a pretty little white lace dress and shiny ankle-strap heels.
In contrast Shah Rukh was the 'men in black'. His was a rather filmy garb - shimmering pants and intricately embroidered shirt.
This united family portrait is a refreshing break amidst rumours of alleged rift between Gauri and Shah Rukh due to his close association with actress Priyanka Chopra.
Indian media were abuzz with news that SRK and Priyanka has taken their relationship to a different level, now that could be a far fetched speculation.
How time flies.
It wasn't so long ago that Shah Rukh and Gauri Khan were parents to a little boy and girl. And now, son Aryan is a strapping 15-year studying in London.
Fifteen year old Aryan has been enrolled in Sevenoaks School in London. The teenager bears a very strong resemblance to his father. Whether Aryan turns out to be a second edition of his father career-wise too is a discovery we're looking forward to making.
While son Aryan is into football, and Suhana is interested in writing, Shah Rukh wants to let them be whatever they want to be. He is extremely close to his children and thinks of them as his friends.
But daughter Suhana has already hogged the limelight while attending many events accompanying her famous parents. It's a known fact that King Khan loves to pamper kids - be it his own or even others'.
Shah Rukh Khan is a hands-on dad and absolutely love his children. But he generally prefers to keep them away from the limelight, we guess Suhana has different plans.
But Shah Rukh feels bad that he can't spend enough time with them - perhaps that makes him pamper his kids. He wants to give them anything and everything possible in this world to make up for the time he cannot give them.
SRK feels that both his kids are extremely grounded, well-mannered, sorted and courteous. Aryan even accompanied Shah Rukh to the late director Yash Chopra's funeral as he was close to his dad's father figure.
(Pictures: Twitter/Agencies)
MUST READ:

Mona Singh nude MMS: Clip morphed, claim cops
IPL 6: Katrina, Shah Rukh, Deepika take over opening ceremony
'Finding Nemo' film sequel 'Finding Dory' gets 2015 release
Follow Emirates 24|7 on Google News.