'Sketches, Scribbles, Drawings by KG Subramanyan' to debut in UAE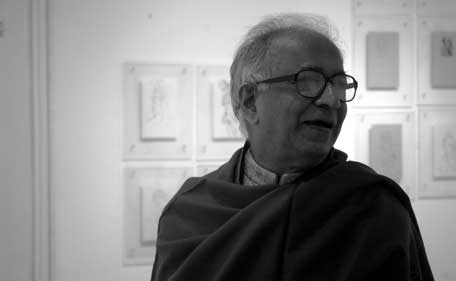 Art lovers in the UAE will have the rare opportunity to experience first hand the enduring works of KG Subramanyan, one of India's most engaging and influential artists, from April 9 - 18, 2015.
An exhibition, titled Sketches, Scribbles, Drawings by KG Subramanyan, will be hosted in the UAE, featuring the works of the 91-year-old artist, designer, writer and teacher who has been active in the Indian art scene for more than 70 years.
Popularly known as KGS, KG Subramanyan has had a seminal influence on India's art and design practice of the last fifty years.
Closely associated with world renowned art colleges in Baroda and Shantiniketan's Visva Bharati University established by Nobel laureate Rabindranath Tagore, KGS is also a designer-consultant associated with India's Handloom Board and the World Craft Council.
KGS is the recipient of several national and international honours including India's second highest civilian award Padma Vibhushan.
Sketches, Scribbles, Drawings will be first hosted at India House, the official residence of the Ambassador of India to the UAE as part of Art at India House, the Indian Embassy's initiative to promote the arts.
The show, which encapsulates the work of the artist across five decades, will be inaugurated on April 9, and will be open to public from April 10 - 14.
His Excellency the Ambassador of India to the UAE Mr TP Seetharam said, "When we started 'Art at India House' to give an exposure in the UAE to Indian artists, we did not imagine that we will be able to host an artist of the stature and accomplishments of KG Subramanyan. We are indeed fortunate to have his works adorn our walls, even for a few days. We hope many people will grab this opportunity to view his magic with lines and colours."
Jointly presented by The Seagull Foundation for the Arts, a one of its kind multi-faceted arts organisation based in India, and Collage Communications, a UAE-based Free Zone entity, the show beautifully captures the rich variety of mediums and styles of the artist.
The exhibition will move to Sultan Ali Al Owais Cultural Foundation, a Dubai-based autonomous organisation that supports art and culture, on April 15, and will be open till April 18.
Sketches, Scribbles, Drawings by KG Subramanyan will feature the artist's early sketches from the 1960s, his black-and-white drawings from the 1980s, as well as nature and figure studies and sketches through the 1990s.
Of special interest will be a series of exquisite gouaches created by the master specially for this exhibition. The show is designed as a tribute to the joyously passionate, creative spirit KG Subramanyan.
Follow Emirates 24|7 on Google News.