Symphony Orchestra of India to launch Abu Dhabi Classics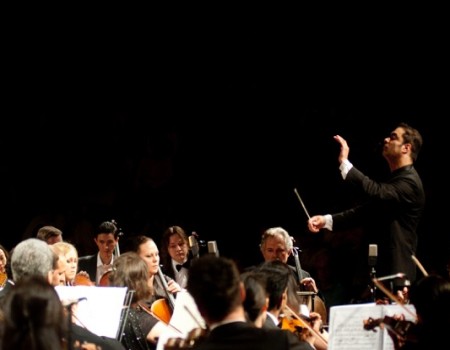 Abu Dhabi Classics 2015/16 – the international concert series running from October until May 2016 – will start on Wednesday October 7, with a performance by the Symphony Orchestra of India on its first visit to the UAE capital.

The premiere, entitled 'The Crown of India', will take place at Emirates Palace Auditorium with the evening's programme featuring Beethoven's 4th Symphony and musical pieces reflecting Indian arts and culture in Europe.
The orchestra, which was founded in 2006, has rapidly become one of the most prestigious in the Indian subcontinent and a major international musical force.
It will be led by the Oxford University-educated conductor Zane Dalal.

The Mumbai-based orchestra will then travel to Al Ain, the emirate's heritage heartland, for a second concert at the Municipality Theatre on Thursday October 8, with a programme offering a panorama of classical music from Bach and Elgar accompanied by violin virtuoso Marat Bisengaliev.

In keeping with this year's theme of 'Music and Poetry' for Abu Dhabi Classics, which is presented by Abu Dhabi Tourism & Culture Authority (TCA Abu Dhabi), the two concerts will be followed by performances in Abu Dhabi city and in Al Ain by one of India's most celebrated poets, writers, lyricists and film directors, Gulzar, accompanied by classical vocalist Ajoy Chakrabarty, who join together in a tribute to the Nobel laureate, poet and composer Rabindranath Tagore.

The first performance will take place at Abu Dhabi Theatre on the Corniche on Monday October 12, followed two days later by a repeat concert at Al Ain's Municipality Theatre.
Between the two shows will be a performance by the Aditi Mangaldas Dance Company - The Drishtikon Dance Foundation with their interpretations of classical Indian dance - Kathak - at Emirates Palace on the 13th October.

Aditi Mangaldas is a leading dancer and choreographer in Kathak having trained under the leading gurus such as Shrimati Kumudini Lakhia and Pandit Birju Maharaj.
She is famed for her artistry, technique, eloquence and the characteristic energy that marks every performance.
"We are very pleased to open the new Classics season with events organised in cooperation with the National Centre for the Performing Arts in Mumbai.
"With the Symphony Orchestra of India it is not only one of the region's main symphonic ensembles that is coming to Abu Dhabi, but also a true example of an orchestra with mixed Eastern and Western influences, making its sound so specific and thrilling," said Dr. Ronald Perlwitz, Head of Music Programme, TCA Abu Dhabi.

"We are also looking forward to welcoming Aditi Mangaldas and her amazing dance company and of course star poet Gulzar, with whom we will start understanding how music and poetry are inextricably intertwined."
Follow Emirates 24|7 on Google News.