Virat Kohli 'blown away' by his 'love' Anushka Sharma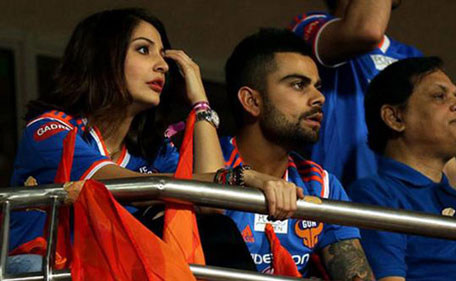 And he hit the ball out of the park - Virat Kohli scores another maximum. India's World Cup clash with Bangladesh is still a day away but this Indian batsman has scored a big one on social media.
Virat Kohli unabashedly declared his love for Bollywood actress Anushka Sharma on Twitter and became a trending topic.
India's star batsman decided to unwind before the cricket World Cup quarter-final on Thursday by watching Bollywood's latest suspense thriller 'NH10', which features his girlfriend Anushka Sharma in lead role.
Kohli was all praise for the film and Anushka took to a micro-blogging site to share his review of the flick.
Kohli tweeted, "Just watched #NH10 and i am blown away. What a brilliant film and specially an outstanding performance by my love @AnushkaSharma. SO PROUD."
Few minutes later, gleeful Anushka's tweet followed, "@imVkohli Thank You . SO happy."
'NH10', a thriller directed by Navdeep Singh, is about a couple's road trip on a highway gone awry. The film features Anushka, Neil Bhoopalam and Darshan Kumaar.
The movie also marks Anushka's debut as a producer.
Kohli had landed in trouble ahead of India's group tie against West Indies, when he hurled the choicest of abuses at a journalist.
He was upset over an article apparently written about Anushka Sharma being the only girlfriend among the wives of the Indian players accompanying the team on the England tour last year.
Anushka has also reacted on the incident and asked the media to treat her boyfriend and his national teammates as adults and has said that she should not be held responsible for his on-field performances.
Kohli had sealed-the-deal about his relationship when he blew a kiss to Anushka after slamming a century against Sri Lanka in November 2014 in front of 15,000 enthusiastic cricket fans.
Earlier, the two made statements about their close relationship but stop short of calling it 'love'.
But going by Virat's recent tweet the scores have been settled once and for all.
Also see: Movie Listings in UAE
Follow Emirates 24|7 on Google News.