Was Whitney's girl murdered? Probe into Bobbi Kristina's death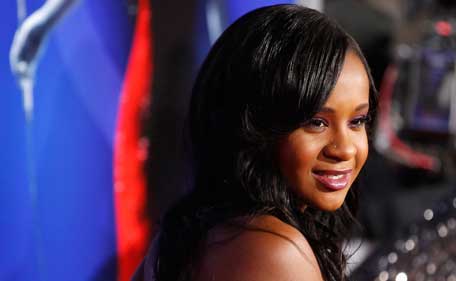 A murder probe has been launched into the death of Whitney Houston's daughter Bobbi Kristina Brown.
TMZ reports that investigation into the circumstances that led to Bobbi's death on Sunday has just been amped up.
It is now officially a homicide investigation.
Cops are treating the mystery as foul play, and Bobbi Kristina's boyfriend Nick Gordon, continues to be a person of interest.
On-off boyfriend Gordon was reportedly raised as an 'adoptive sibling' by Houston and Brown, but never officially adopted.
When Bobbi Kristina's family decided to switch off the life support machine, police said they would be looking at the case with 'greater interest' reports Sun.
The 22-year-old died after a six-month medically-induced coma surrounded by her family at Peachtree Christian Hospice in Duluth, Georgia, US.
Bobbi Kristina Brown, the only child of pop legend Whitney Houston, was discovered face down and unresponsive in her bathtub in her Atlanta, Georgia home on January 31.
She was revived by emergency crews but lost significant brain function and was placed in a medically induced coma.
In February, US media reported that police had opened a criminal probe into Bobbi Kristina's boyfriend Nick Gordon, who reportedly said that it was he who found her in the bathtub.
The reports said that Bobbi Kristina sustained unexplained injuries prior to the incident, while there are also claims of a drug overdose.
Her death -- which a source told 'Entertainment Tonight' was linked to an apparent drug overdose -- drew eerie parallels to that of her mother, who was found face down in a bathtub in a Los Angeles hotel on February 11, 2012, on the eve of the Grammy Awards.
Follow Emirates 24|7 on Google News.