DHA announces plans to launch medical facilities at Expo 2020 Dubai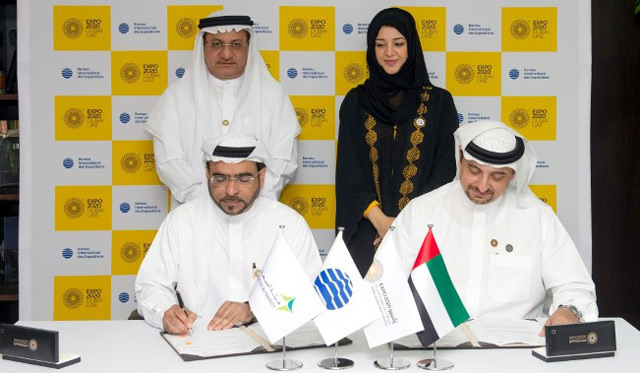 The Dubai Health Authority, DHA, an official supporter of Expo 2020 Dubai, has announced that it will set up medical facilities at the venue to ensure the health and safety of the event, which is expected to attract nearly 25 million visitors from 180 countries.
The announcement was made following the signing of a Memorandum of Understanding, MoU, between the DHA and Expo 2020 Dubai today in the presence of Reem bint Ibrahim Al Hashemy, Minister of State for International Cooperation and Director-General of Dubai Expo 2020 Bureau and Humaid Al Qutami, Director General of DHA.
The MoU was signed to launch the first emergency centre that will cater to patients during the construction phase. The other three centres will be set up at a later stage to cater to the surge in the number of visitors. Dr. Ahmed Ibrahim Bin Kalban, CEO of Specialised Healthcare Services Sector at the DHA and Najeeb Mohammed Al-Ali, Executive Director of the Dubai Expo 2020 Bureau signed the MoU.
She said, "Health and safety are important priorities for Expo 2020 Dubai, and this collaboration will play a key role in further enhancing our efforts as the pace of our preparations continues to accelerate. We are very pleased to be working with the Dubai Health Authority in delivering a world-class event where innovation and creativity can flourish, enabling us to easily deliver Expo's message to the whole world."
Al Qutami said hosting an event of this magnitude is a testimony to the capabilities of the UAE, as it represents the strong and positive role this country has in the international arena and reaffirms that it has all the capabilities needed to succeed in hosting such an international event.
The DHA recognises the importance of the Expo 2020 Dubai and is keen to fulfil its role of providing a safe and healthy environment before, during and after the event, and therefore it has formed a specialised committee responsible for ensuring the preparedness of these medical centres, he added.
Al Qutami stated that the DHA has put in place a strategy that connects all medical networks with each other using smart systems, and added that the DHA has started implementing advanced training programmes to strengthen the capabilities of its medical teams and technical support staff to prepare and respond to any emergency promptly.
Follow Emirates 24|7 on Google News.