Icelandic Volcano Still Spewing Huge Ash Plume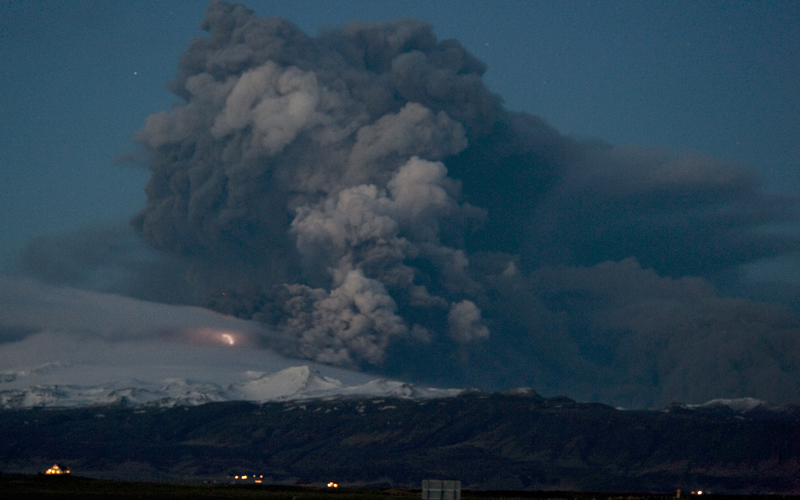 An Icelandic volcano is still spewing ash into the air in a massive plume that has disrupted air traffic across Europe and shows little sign of letting up, officials said on Friday.
One expert said the eruption at the volcano, about 120 km (75 miles) southeast of capital Reykjavik, could abate in the coming days, but a government spokesman said ash would keep drifting into the skies of Europe.
The thick, dark brown ash cloud that shot several kilometers (miles) into the air and has drifted away from the north Atlantic island has shut down air traffic across northern Europe and restrictions remained in place in many areas.
Norway and Sweden said they would resume limited flights in their northern areas, but Poland and the Czech Republic joined the list of countries with closed airports.
"It is more or less the same situation as yesterday, it is still erupting, still exploding, still producing gas," University of Iceland professor Armann Hoskuldsson told Reuters.
"We expect it to last for two days or more or something. It cannot continue at this rate for many days. There is a limited amount of magma that can spew out," he added, saying it was the magma, or molten rock beneath the Earth's surface, coming out of the volcano that turned into ash.
Environment Ministry spokesman Gudmundur Gudmundsson said no variation was expected in the outflow of ash.
"The eruption is ongoing and we are not expecting any change in the production of ash...High level winds will keep dispersing the plume over Europe," he said.
The eruption has taken place under the Eyjafjallajokull glacier, normally a popular hiking ground in southern Iceland.
Foreign Ministry spokeswoman Urdur Gudmundsdottir said there was some damage to roads and barriers protecting farms.
"There is still an evacuation of around 20 farms, which is 40 to 50 people," she added, noting this was less than the 800 people who had been evacuated earlier this week.
Follow Emirates 24|7 on Google News.